Every time there's a hike in petrol prices a few hundred cars die somewhere. Petrol cars could rapidly go out of favor, as is evident by falling sales figures of petrol-only models among all car makers.
Not surprising, given that diesel fuel cost is almost 30 percent these days (Petrol is Rs. 63.68 per litre and diesel Rs. 41.27 per litre in Delhi). CarToq has been tracking this closely, since it was the first point out this trend earlier last month (Read here.)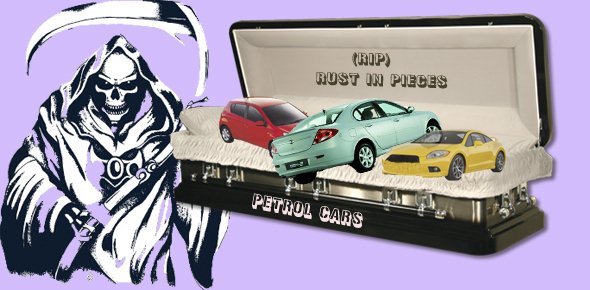 We decided to dig deeper into the sales chart of petrol cars in the past 6 months. What surprised us is that the decline in petrol cars is across the board – right up to premium and luxury sedans. (The trend is not very marked in cars less than Rs 5 lakh because there are very few good diesel engine choices in that price range.
Are we seeing the beginning of the end of petrol cars? That is perhaps too extreme a conclusion. But what is definitely true is that for some petrol cars, this looks like the end of the road.
Petrol sedans hit the brakes
Take sales of the Honda Accord for instance. Only 933 Accords have been sold in the period from January to June 2011, with sales declining 135% from 242 cars in February to 103 cars in June.
The Accord is a good, sporty luxurious car, priced between Rs. 20 lakh and Rs. 26 lakh, with a choice of two petrol engines. But if you look at its immediate rivals, the Skoda Superb and the Volkswagen Passat  (the new Passat was launched in April), which have good diesel engines, the sales charts show a different trend. Skoda sold 2,078 Superbs between January and June, with a consistent monthly average of 347 cars. Volkswagen has managed to sell 577 Passats in three months, at an average of 193 cars a month (almost double the Accord sales).
A little further down the price ladder, the story is as dismal for the newly launched Kizashi. The Maruti Kizashi, which is being sold in India as a fully-imported completely-built unit (CBU), sold 245 cars from February to June, with most number of cars (103) being sold in March during the initial launch hype. In June, there were only 32 cars buyers of the Kizashi.
Petrol SUVs go off track
Petrol SUVs are also struggling to maintain even a token presence. The Mitsubishi Outlander and Honda CR-V are two petrol-only SUVs competing with diesel giants such as the Ford Endeavour and Toyota Fortuner. In the past 6 months, the Honda CR-V has sold 30 units a month on an average. The Outlander averaged 58 units, with June sales dropping down to 41. (Consider the 900-plus units sold for the diesel Fortuner).
Maruti's Grand Vitara is virtually over. In the last 6 months, this petrol-only SUV has found only 31 buyers! This is despite the fact that the Vitara comes with all the trappings and features of a good SUV, and is priced much lower than its competitors.
Petrol prices burn through brand strength
Established brands are finding it hard to hold on to loyal customers for their petrol-only cars. Honda has been the worst hit, as it doesn't have a single diesel engine offering till date, with the earliest launch of diesel engine from Honda being in 2014. Honda has seen sales fall in all segments. Sales of the popular Honda Civic are down to just 175 cars in June from 508 in January.
All other cars in this price segment have diesel engine choices and are doing well. The Skoda Laura sells an average 586 cars a month, with sales rising to 693 cars in June. The Toyota Altis, which sells both petrol and diesel models, sells an average of 694 cars a month.
The leader by far is the Chevrolet Cruze, which is a diesel-only model in three variants, having sold 4,773 cars since January, at an average of 795 cars a month. General Motors is very happy with the sales of the diesel Cruze and has ruled out bringing in the petrol version of the Cruze to India, as it does not see any demand for that model.
A segment lower, the Honda City got hammered in sales by the Hyundai Verna, Volkswagen Vento and Maruti SX4 in April and May due to the lack of a diesel engine. But Honda made a sort of a comeback with a whopping price cut of Rs. 66,000 on its base version, which has seen sales jump back to 2,802 vehicles in June from 1,828 a month earlier. But it's still nowhere near the 4,460 cars a month average it sold from September to December last year. Honda City's average sales from March to June were just 2,230 cars.
There are some good cars that face a serious threat today because of the petrol-diesel fuel cost difference. Their entire proposition has been seriously dented by this fuel cost disparity. Don't be surprised if these models completely disappear from the buyer's shortlist in the next 6 months, especially if their makers do not reinvent them around diesel engines.
Source: Team-BHP, Industry data