In the past there have been some cars that made a brief appearance on Indian roads and then were very rarely seen as the company pulled the plug on them for slow sales due to a variety of reasons. Some of the cars were ahead of their time. In some cases, the car companies didn't have the muscle to market the cars. And in some cases the cars themselves were duds.
We put together the Indian List of Horrible Failures picking the 10 cars that actually had potential to be hits but ended up as duds, with hardly any being sold. Take a look and do tell us if you can think of more that deserve honorable mentions.
Sipani Dolphin (1982-1990)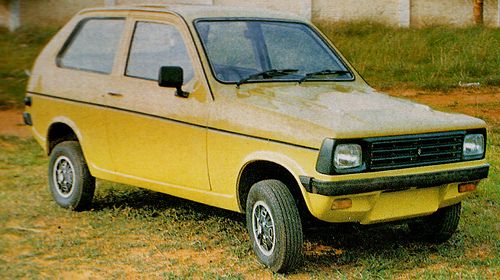 Why it flopped: Unheard of company, poor marketing. The Maruti 800 killed it
Sipani Automobiles is a little known automotive company based in Karnataka. They have made cars like the three-wheeled Badal (based on the Reliant Robin) and which later morphed into the Dolphin (based on the Reliant Kitten) in 1982. The Dolphin had an all-fibre glass body and initially came in a two-door variant only, with a 848 cc, 4-cylinder engine, 4-speed manual transmission and rear-wheel drive. The car was quite a spirited performer and was a delight among enthusiasts.  But being a two-door fibre-glass body, it didn't find many takers. In 1983, the Maruti 800, forced the Dolphin on to the back foot, and it was replaced with the Sipani Montana – a four-door variant. This too failed to find many takers. Sipani attempted to take on the 800 with yet another car, the Sipani D-1, a 1.5 litre diesel-engined fibre-glass car in 1989, but that too failed, because of the lack of marketing muscle and poor after sales service. The car died by 1990.
Rover Montego (1991-1995)
Why it flopped: High prices and dismal marketing and after-sales from Sipani
Sipani Automobiles is one automobile company in India that has managed to fail with almost every product it made. From the three fibre-glass cars – the Dolphin, Montana and D1, it also went on to introduce one of India's first luxury cars – the Rover Montego in two variants. The Montego was available as a sedan and as a station-wagon in 1991. It came with a 2-litre diesel engine, 5-speed manual transmission, power steering, windows, AC and all the comforts you could think of in a good modern car. The car itself was a good product, but the price tag of Rs. 11 lakh was too steep for the time. By 1995, Sipani was too deep in financial trouble to continue making or selling these cars and very few were sold.
Standard 2000 (1985-1988)
Why it flopped: Underpowered engine, terrible gearbox and horrible mileage!
The Standard 2000, made by the Chennai-based Standard Motors, was ahead of its time in India. It was introduced in 1985, but died just three years later. The body of the Standard 2000 was lifted straight from the Rover SD1. It was available for Rs. 2.2 lakh then, and was seen as one of the best affordable luxury cars in the market. It had a good AC, amazing fit and finish, spacious interiors, power windows, hydraulic power steering, and a dashboard with so many gauges that it resembled an aircraft. The biggest let down, however, was the engine. Standard used a 2-litre, 4-cylinder petrol engine from an old 1948-design Vanguard. This was mated to a terrible 4-speed manual transmission that was taken from the Standard 10 van. The car also gave horrific mileage of about 6 kmpl. Some Standard 2000 owners junked the engine and gearbox and put in imported Toyota and Nissan diesel units that fared decently, but they failed due to lack of parts and poor marketing by Standard Motors.
Maruti Baleno Altura (2002-2005)
Why it flopped: No takers for station-wagons in India, too expensive
Maruti has seldom failed with a car. But one of the biggest flops it had was the Baleno Altura – the stationwagon variant of the Maruti Baleno. The Baleno itself didn't do pretty well compared to the competition. However, the Altura, powered by a 1.6-litre, 94 bhp petrol engine, was introduced in 2002, after the Baleno sedan. However, the Altura failed to entice buyers despite its good looks and practicality. The problem again was price, as it was priced at Rs. 7.5 lakh at the time, a bit too expensive compared to the competition. Altura production was stopped in 2005, selling very few units, while the Baleno sedan was discontinued in 2007 after a fairly good run.
Mahindra Voyager (1997-2000)
Why it flopped: Expensive van, ahead of its time
Before Mahindra managed to make good utility vehicles that could carry passengers in comfort, it attempted to take on the Maruti Omni, by introducing a bigger van in a tie up with Mitsubishi. The Voyager, introduced in 1997, was powered by Mahindra's 2.1-litre Peugeot diesel engine that did duty in the Mahindra MM540, mated to a 5-speed manual transmission. It was one of the first MUVs to come with lots of interior space and comfort, and with dual-row air-conditioning. However, for a price of over Rs. 5 lakh, it found limited buyers. Production of the Voyager stopped in 2000, after an ill-fated run.
… Ultimate flop cars of India: Story continues below …