Social media has become an integral part of our lives. Many people seeking popularity have started creating videos and posting them on these public platforms. Often, individuals come up with unique ideas to make their content stand out. Lately, we have been witnessing a trend among youngsters who use vehicles to create such reels and videos. Most of the time, they violate rules to make such videos. One such incident was reported from Delhi, where a bride was seen riding a scooter without wearing a helmet. Cops issued a fine after the video went viral.
Going 'Vaari Vaari Jaaun' on the road for a REEL makes your safety a REAL WORRY!

Please do not indulge in acts of BEWAKOOFIYAN! Drive safe.@dtptraffic pic.twitter.com/CLx5AP9UN8

— Delhi Police (@DelhiPolice) June 10, 2023
The video of the bride from Delhi was posted on social media. Soon, the video became viral, and after some time, the Delhi traffic police department also came across it. When they saw the video, they were not happy at all because the bride was seen riding a scooter on the roads of Delhi without wearing a proper riding helmet.
We all know that riding a two-wheeler without wearing a proper helmet is a violation and dangerous. The girl, or the bride, is seen wearing her wedding attire, which can be seen dragging on the road at times. This is extremely dangerous as there is a high chance of it getting caught under the wheel or some other object on the road. When that happens, the rider would instantly lose balance over the vehicle and fall down.
Also read: 10 DC Design cars & how they look in the REAL world: Maruti Swift to Mahindra XUV500
The Delhi Police posted the same video on their official Twitter page and wrote, "Going 'Vaari Vaari Jaaun' on the road for a REEL makes your safety a REAL WORRY! Please do not indulge in acts of BEWAKOOFIYAN! Drive safe." They also shared a screenshot of the challan that was issued against the bride. In this challan, we can see that the total challan amount was Rs 6,000. The first offense listed in the screenshot is regarding the helmet. She was seen riding without a helmet, which invited a fine of Rs 1,000. The next offense in the screenshot is that the rider did not have a license, which invited a fine of Rs 5,000.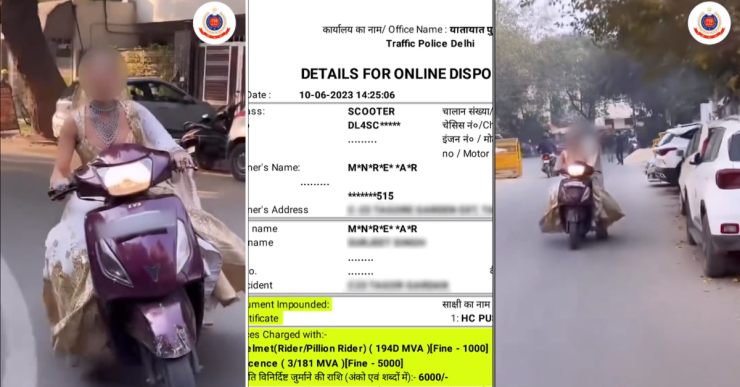 It is completely illegal to ride or drive a two or four-wheeler without a driving license. If the person driving the vehicle is a minor, then authorities can actually book the parent who allowed them to drive the vehicle. The video shared by Delhi police also mentions that the road is not the place to create reels, and we completely agree with that.
If you really want to create such viral video content, there are several closed roads or empty grounds in different parts of the city or state. Even then, you should be careful about your riding style and gear. The road is not a place to perform such stunts, and in the past, we have seen cops issue hefty fines for violating rules on public roads. By performing such stunts on the road, these people not only put their own lives at risk, but also the lives of other road users. Riding recklessly or riding for the camera often causes inconvenience to other road users as well.
Also read: Upcoming 2022 Maruti Suzuki Vitara Brezza rendered