The increasing price difference between petrol and diesel makes some cars cheaper to run than some bikes. Yes. You didn't read anything wrong.
(Updated on June 7, 2012)
CarToq member Dhiraj Patra had an interesting observation some time ago: "Now diesel car running cost is lower than a bike. Yes, it is true by the grace of Indian Govt."
We decided to explore this thought further.
With petrol cost touching Rs 72/liter and diesel staying at Rs 41/liter, the per kilometer running cost for some bikes (all of which run on petrol) might have increased significantly in recent times. And with some of the small diesel cars with mileage of nearly 25 kmpl, the analysis could show interesting results.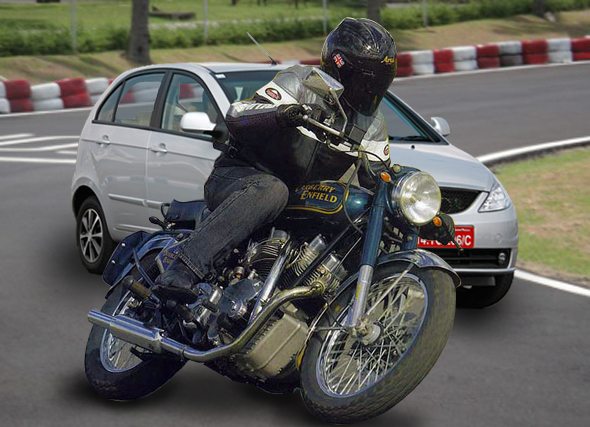 And it did.
And we are not just talking superbikes here. We took the quintessential Royal Enfield and compared it with a diesel workhorse, the Tata Indica eV2. And it turned out that the Indica eV2 was indeed cheaper to run now.
In fact, it compares unfavorably with any cars giving a mileage of over 20 Kmpl. These include diesel version of hatchbacks such as Chevrolet Beat (25.4 Kmpl), Nissan Micra (23.08 Kmpl), Maruti Swift (22.9 Kmpl), Tata Vista (22.29 Kmpl) and their likes.
How is that possible?
Let's do the numbers.
The two bikes, Thunderbird and Classic 350 from Royal Enfield, return a (claimed) mileage of about 36 Kmpl. With petrol at Rs 72/liter, that's exactly Rs 2/km.
Any hatchback that returns a (claimed) mileage of over 21 Kmpl has a running cost of less than Rs 2/km since diesel costs only Rs 41/liter. For instance, Chevrolet Beat diesel returns a (claimed) mileage of 25.4 Kmpl and thus has a per kilometer running cost of Rs 1.61/litre.
If you thought that was weird, listen to this. Even some of the diesel sedans have a lower running cost than the Enfield now!
The Tata Indigo eCS (25 Kmpl), Toyota Etios (23.59 Kmpl) and Maruti Suzuki new Dzire (23.4 Kmpl) too cost less per kilometer to run compared with Royal Enfield Thunderbird/Bullet. They have running cost of about Rs 1.7/km.
The Royal Enfield is not a common man's bike, you say. How about the hugely popular Bajaj Pulsar 220 DTSi and Hero Honda Karizma R or the much-loved Yamaha YZF R15? You'd spend about Rs 1.7/km if you are riding Pulsar and Rs 1.6/km in case of the Yamaha R15. Karizma too will cost a shade above Rs 1.5/km to run.
While they are a shade cheaper to run compared with the most frugal diesel cars, it's only by a fraction. And that despite the fact that all these bikes return a healthy mileage of above 40Kmpl!
Whoever said that bikes are cheaper to run?
* Delhi fuel prices rounded to nearest decimal