So the Chevrolet Beat single-handedly turned General Motors India into a volume player, right? The company is not resting on its success, and has now decided to launch the much-rumoured Chevrolet Beat diesel in 2011.
If we look at the car sales trends in India, it is obvious that the diesel variant – when available – sells much getter than the petrol sibling of any car.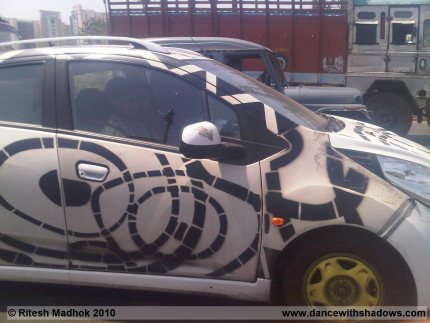 Photo: A camouflaged Chevy Beat – we caught this after the Beat was launched, so chances are this is a diesel or LPG Beat
Mostly, all cars that launched in India recently came with a diesel option from day one. The Volkswagen Polo 1.2 TDI (diesel), Ford Figo 1.4 Duratorq (diesel), Fiat Punto 1.4 MJD (diesel), Hyundai i20 with the 1.3 CRDI (diesel) and among the earlier launches the Swift got the LDi and the VDi with the Fiats MJD engines are some of the popular diesel cars in India now.
That brings us to the Chevrolet Beat. (Read Chevrolet Beat petrol road test) This small car was launched just before the Auto Expo 2010 in January this year and has played a big part in the success story for General Motors India, which has done a complete turn around and has now become one of the big players for India. The Beat was received rather well and has won many a heart with its space-age looks on the outside and inside as well. Sales for the 1.2 S-tec powered petrol Beat car is high.
The news of the diesel Chevrolet Beat was also confirmed by Mr Ankush Arora, VP Sales-Marketing GM India who said that a 1.0 litre diesel engine was ready to be rolled out from GM's manufacturing unit at Talegaon. If everything goes as per planned, we very well could have the Beat D (diesel) driving on our roads by early next year. This latest manufacturing unit of GM has an over all capacity of 1,60,000 engines and GM also would be getting its Halol (Gujarat) unit to be operational to full shifts to meet the deadline.
Apart from the diesel Chevrolet Beat, GM is also planning to get its LPG variant of the small car by this year-end. Incidentally, GM launched the Chevrolet Aveo LPG, the LPG version of its mid-sized car last month. The specialty of the LPG Aveo is that the LPG kit comes factory fitted and is one of the best kits around.
We spotted a camouflaged Beat being tested on the outskirts of Mumbai some days back and it surely has to be the diesel or the LPG variant.
With diesel options also planned for the Nissan Micra soon after its petrol version is out, and the growing demand for diesel powered cars it would add some boost to the sales of the Beat and fortunes of GM India.