October is the month when car manufacturers introduce deep discounts on cars to attract buyers. Of course, these discounts are usually not much on the top-selling cars, and much higher on cars that are not in high demand. This year too, the same trend applies. Take a look at this list of the best deals available in the market right now – the car which you have an eye on might be there! Also, do not forget to negotiate further, as dealers are often willing to throw in some freebies.

Hottest sedan deals in October 2011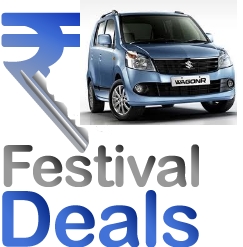 October has seen some really big discounts on sedans priced between Rs. 7-Rs. 10 lakh. Honda City, Fiat Linea T-Jet and Ford Fiesta look like good buys this Diwali. Read on for details. Read Full Story
Hottest small car deals this Diwali!
The largest segment in the market saw some good deals—and some got better as the month progressed. Here is a quick run-down of what's on offer—mostly till Diwali.  Read Full Story
Hottest compact sedan deals for Diwali 2011!
The compact sedan segment of cars priced between Rs. 4-Rs. 7 lakh did not see all that much action on deal front. Read Full Story
Diwali deals on best-selling cars in each segment!
There are cars that people want to buy and there are cars that manufacturers want people to buy. There are plenty of offers on the latter this Diwali season. But what about the ones everyone wants to buy? Dwsauto.com brings you a run-down of festival deals (or no deals!) on top three sellers in each segment. Read Full Story
Biggest cash discounts in October 2011—how about Rs. 1.5 lakh off?
Here are the five biggest discounts on offer this month: Rs. 1.5 lakh off on Skoda Laura The 160-BHP Laura versions are a driving enthusiast's delight. The base version, 1.8 Classic priced at Rs. 12.44 lakh can now be bought for …Read Full Story
Hottest deals on premium hatchbacks in October, 2011
The festive month brought a good number of deals from automakers—some really inviting, others not so much. One thing that stood out was complete absence of any deals on diesel variants from any of the automaker. Read Full Story
Rs. 50,000 off on all Nissan Micra models
The discounts make the low- and mid-range Micra variants absolutely fantastic value-for-money buys. Read Full Story
Deal of the month: Tata Manza Aqua at Rs 4.94 lakh!
With festive season kicking off, we had plenty of offers from automakers. There have been some really big discounts—Fiat Linea T-Jet plus getting a very substantial Rs. 75,000 off; Rs. 55,000 off on the Chevrolet U-VA LTZ that brought down its price to a tantalizing Rs.4.29 lakh; The top-end Honda City came with a discount of Rs. 70,000 bringing its price below Rs. 8 lakh. Wow! Read Full Story
Tata Manza discounts of up to Rs. 45,000: Aria left in the cold
Tata Motors has just revealed discounts on its cars. The petrol models of Manza get the best deals with discounts ranging between Rs. 33,000 and Rs. 45,000. The offers are valid till Oct. 31. Read Full Story
Ford Fiesta gets festival discount of Rs. 50,000
We have been waiting a while for festive offers from Ford, particularly since its competitors Maruti, Hyundai, General Motors and Honda had already announced theirs. And now we have them. Read Full Story
Skoda announces massive discounts: Rs 1.48 lakh off on Laura; Rs 61,700 on Fabia!
Skoda joins the festival melee but continues the on-going trend of automakers limiting their discounts to mainly petrol versions of their cars. Read Full Story
Chevrolet rolls out big discounts on U-Va and Aveo; Beat and Spark get Rs. 20,000 off
General Motors India has unveiled a host of discounts on its Chevrolet cars. The discounts range between Rs. 55,000 (on U-Va LT) and Rs. 20,000 (on Spark and Beat). Read Full Story
Hyundai announces discounts now, only i10 offer attractive enough
Hyundai spent little time in responding to festive offers from its arch-rival Maruti Suzuki India Limited. It has just announced cash discounts and other deals on Santro, i10, i20, Accent and Sonata. The offers are valid till October 31. Read Full Story
Maruti announces good discounts of Rs. 25,000 on A-Star, Rs 14,000 on Wagon R
Maruti Suzuki has kicked off the festival season with discounts that combine cash backs and goodies on some of its cars. The cash discounts range between Rs. 5,000 and Rs. 25,000. Read Full Story