People often make stupid decisions when they are angry over something. This is because they are not thinking at this time and are completely filled with anger. They forget about the consequences of their stupid decisions and this often results in huge loss. One such incident was recently reported from Tamil Nadu's Kancheepuram where a doctor who had fight with his girlfriend simply set his Rs 70 lakh Mercedes-Benz CLA 45AMG luxury car on fire.
The reports have surfaced in several online media platforms and videos from the spot where the doctor set fire to his car are also available. As per reports, the incident happened like this. Kavin, who is 28 years old and is a doctor by profession works at a private hospital.
He finished MBBS from a private medical college in Kancheepuram, Tamil Nadu. Kavin was in a relationship with a 28 year old woman doctor who studied in the same college.
Also read: Modified Royal Enfield Thunderbird 500 motorcycle from Eimor Customs look beautiful
Image courtesy TimesNow
last week, Kavin picked his girlfriend from her house and went out for a drive. Kavin was driving his own car and they soon reached an isolated part of the Chennai-Kancheepuram highway. Both Kavin and his girlfriend were having a heated argument inside the car. Later they both got out of the car and continued to fight. Kavin was extremely angry for some reason and in one such moment, he doused the car with petrol and set it on fire. The car that Kavin was driving was a Mercedes-Benz CLA 45 AMG sedan which costs around Rs 70 lakh.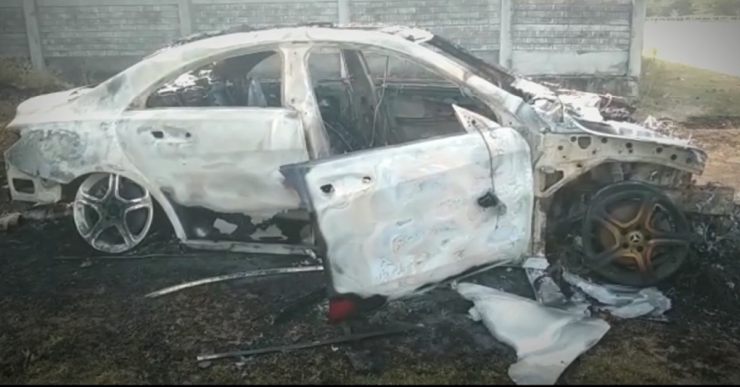 After the car started burning, locals noticed the fire and they soon informed the fire brigade and police. By the time, Fire rescue services came, the car was completely burned. Kancheepuram Taluk police registered a case against Kavin for setting his car on fire and he was arrested too. He was later released on bail. The reports do not mention what exactly triggered him to set his car on fire. Some reports suggest that the woman broke up with Kavin and that is why he was angry and in a fit of rage, the doctor set the car on fire.
This is not the first time something like this has happened in India. last year in December, a 23-year-old man from Delhi was detained for igniting a fire that was intended to burn down a person's car that was parked at a multilevel parking lot in Subhash Nagar, west Delhi. The person had targetted the car of a person who was dating his cousin sister. Things went south when the fire in one of the car spread to other cars in the parking lot. The fire ended up destroying 20 other vehicles on the lowest-floor of the parking lot. Similarly, a Kawasaki ZX-10R motorcycle was set on fire by miscreants. The bike was only 17 days old. Unknown miscreants set the Kawasaki ZX-10R and another new car and bike on fire in the neighbourhood. We have also come across several incidents where people have set their bikes on fire after cops stopped and fined the rider for offences.
Also read: BSA Motorcycles unveil Gold Star 650: Will Rival Royal Enfield 650 Twins