India is a unique place, and sometimes, the things that happen there are beyond rationality. Every now and then, a viral video appears online showing someone doing something stupid. In the most recent video, a young man under the influence of alcohol was seen riding a bull on the streets of Rishikesh. Following an investigation, it was found out that the drunk man in the video wanted to create a viral video to become famous on the internet.
05 मई की देर रात्रि तपोवन ऋषिकेश में नशे में युवक के सांड के ऊपर सवार होने संबंधी सोशल मीडिया पर प्रसारित वीडियो का संज्ञान लेते हुए युवक के विरुद्व वैधानिक कार्यवाही करते हुए युवक को चेतावनी दी गयी कि पशुओं के साथ भविष्य में इस प्रकार दुर्व्यवहार न करें। pic.twitter.com/VrSxRdhqJX

— उत्तराखण्ड पुलिस – Uttarakhand Police (@uttarakhandcops) May 8, 2023
According to the police authorities, the video was shot in the Tapovan area of Rishikesh, Uttarakhand. The video shows the young, drunk man riding the bull on a street at night time. A couple on a Honda Activa scooter can also be seen diverting from the road to get away from the bull and the man. Later in the video, the man can be seen with a blurred face apologizing for his actions.
Also read: Modified Royal Enfield Thunderbird 500 motorcycle from Eimor Customs look beautiful
The Uttarakhand police shared the video of the accused on their official Twitter handle. The post stated, "Taking cognizance of the video circulated on social media about a drunk youth riding on a bull in Tapovan, Rishikesh, late at night on May 5, legal action has been taken against the youth, and he was warned not to misbehave with animals in this way in the future."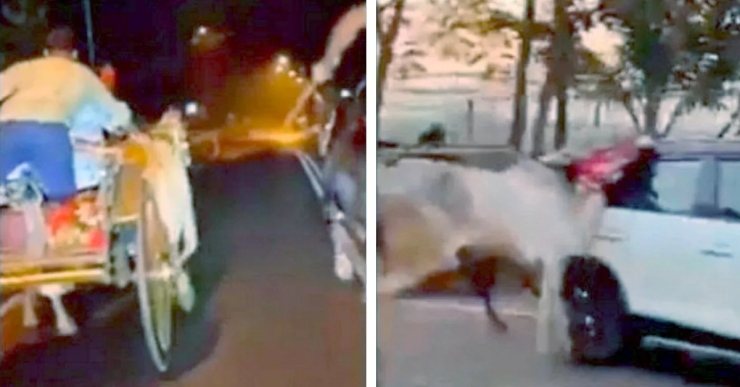 In a similar incident a few months ago, a video was shared on Instagram by a Non-Governmental Organization (NGO) – People for Animals (PFA), which showed an act of animal cruelty. According to the video, innocent bulls were used to race on city roads for the adrenaline rush of some people.
The video showed that there were two separate races that were held. The first video was from Bangladesh Cricket Ground in Mumbai. In this race, the riders were sitting on the bullock cart and were continuously hurling the bulls to run faster, and a bike was riding along the bullock cart recording the entire ordeal. In the video, it was seen that the bulls were trying to run as fast as they could, but after a while, they lost control, and because of the loss of their sense of direction, they eventually crashed into a parked Vitara Brezza.
Additionally, in the same video, another similar instance showed two different groups of men riding two different bullock carts and racing them against each other on the Mira-Bhayandar Flyover (Golden Nest to Maxus Mall). In this video, the scenes were even more cruel as the abhorrent group of men were seen poking these animals with sticks to make them run faster. In the second video, the bull on the right cart was seen collapsing in front.
The caption of the video stated, "The bulls were given alcohol. The bullock cart riders used long, pointed, sharp sticks to poke the bullocks in their anuses to make them run faster. Motorcycles were speeding next to the bulls. As a result, the bullocks lost their balance out of pain and crashed into cars, probably dying in the process with broken legs. This kind of "amusement" is illegal. The organizers could be arrested under 429 IPC as those animals have been tortured and probably killed."
Also read: BSA Motorcycles unveil Gold Star 650: Will Rival Royal Enfield 650 Twins