Electric cars and hybrids: Expected launches and unveilings at 2010 Auto Expo
Update: Mahindra electric car coming
Update again: Hyundai i10 Electric car for Auto Expo
Considering that at DWS AutoIndia we believe that electric cars and hybrids are the future, it was a matter of time before we wrote something about the ones that would make their appearance at the Auto Expo 2010 – and here it is.
Remember that China has decided already that electrics and hybrids are what they would use to leapfrog the problems faced by the West due to pollution and dependence on fossil fuels from the turbulent Middle East. We are lagging far behind, with no concrete policies to encourage their use – in fact, duties and taxes often mean electric cars would actually cost more in India, making them unaffordable to exactly that segment of the market which should be the buyers.
Chevrolet Spark electra (electric)
General Motors has already confirmed that it would display an electric variant of the Chevrolet Spark. Not an all-new car – this will be an electric motor which would replace the petrol engine in the Spark. No production dates have been confirmed yet, but GM seems to be quite serious about the so-called Chevrolet Spark Electra (that's the name according to some rumours). The company would be closely watching the public's reaction to the first ever electric small car from the company – and a lot would depend on whether people would be happy about the expected the range (the kilometers the car can run on a single charge) and performance. Cost would also be a factor – it cannot cost much higher than the petrol Spark for it to be successful. We think the company expects a reduction in duties on electric cars in India soon.
Tata Nano electric and hybrid
It is well-known that Tata Motors are serious about electric and hybrid technologies. What is not known is whether development is at the point where they are practical. Tata officials have said on several occasions that electric and hybrid versions of the Tata Nano ultra low cost car are in the works. But considering that there is already a long waiting period for the Tata Nano, it is unlikely that they would be launched anytime soon. The best we can expect to see are prototype versions of their electric and hybrid Nano.
Tata Indica electric
Now, this is a car that has been under development and testing in Norway, which seems to already offer a good electric car infrastructure with easy access to charging points. If there is an Indica electric on offer in India, we are sure the market would be thrilled. After all, we are cost-concious, and if the Tata Indica electric can offer say, 150 km range on a single charge, reasonable power compared to the diesel or petrol Indica cars, and all at a price that is not much higher than the normal Indica, it would be certainly a success. Tata Motors will display the Indica EV at the Auto Expo 2010, but we don't expect a launch anytime soon.
The company would be certainly watching the response of the public at the Auto Expo – but much would depend on government policies.
Reva NXR and NXG electric cars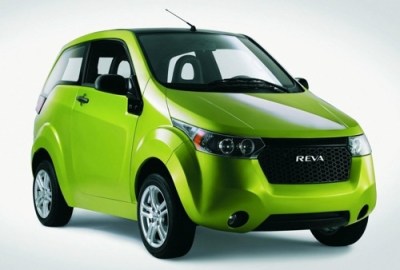 Reva electric cars are a common sight in New Delhi, where MTNL has bought them for its technicians for quick response. The Delhi government also has ensured the Reva cars are available cheaper than anywhere else here.
The company recently showed off its NXR and NXG small electric cars at the 2009 Frankfurt Auto Show, and got a lot of press coverage internationally. Reva electric cars have been selling under the name G-Wiz for a while in some international markets. Both would be displayed at the 2010 Auto Expo, and launch announcement is also expected.
The Reva NXR and NXG are technologically a major leap beyond the outdated battery tech and design of the curent Reva cars we get in India. Reva already has an alliance with GM, and it is believed that Reva's battery and electric motor technology would be used in the Spark electric car we talked about earlier.
The crucial factor still is price. India is familiar with electric cars from Reva – and the NXR and NXG electric cars are bound to be crowd-pullers at the Auto Expo. But pricing has to be small car-like for them to sell – and this is not really in the hands of the company but the central and state governments in India.
Toyota Prius hybrid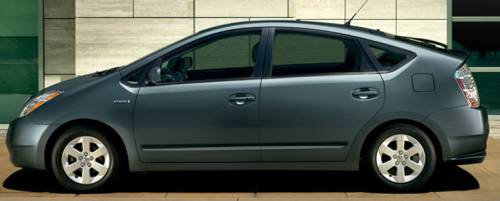 Toyota Kirloskar would launch its world-famous Prius hybrid cars in India at the Auto Expo 2010. The cars would come to India as Completely Built Units (CBUs) which are taxed above 100 per cent – so prices would be above Rs 20 lakhs, making the unaffordable for most of the market. They would be technology flagships in India for the company. Only a few units of the Toyota Prius hybrid are expected to be sold in India. They are not going to make a difference in the market directly – but seeing Prius hybrids on the road, as well as the media coverage and public interest would mean that awareness of hybrid cars would go up in India. And that is always a god thing.
Hyundai i10 EV
An electric version of the popular Hyundai i10 would also be brought to the Auto Expo. There have been some reports which said that the Hyundai i10 electric car would be launched in India by Hyundai's brand ambassador Shahrukh Khan – but we are not sure about a launch yet. There is a difference between an unveiling and a launch! However, if Hyundai really brings in the i10 electric car here, we would be seriously thrilled. Are they trying to bring in an electric car before the Chevrolet Spark electric is launched here? That would be brilliant in our opinion.
According to some rumours, the Hyundai i10 Electric will have a 49kW (66.6 PS) electric motor. All the usual qualifications about range, power and price apply, of course.
Honda CR-Z hybrid concept
Honda's small car for India in prototype form would be the biggest news from the company at the Auto Expo. This is expected to be a petrol car. However, the company would be bringing its CR-Z hybrid sportscar concept. No launch is expected. Honda's experiments with the Civic hybrid in India did not really work due to the high cost. There are no new hybrid or electric car plans from the company for India in the immediate future as far as we know. However, a bit of showing off at the 2010 Auto Expo with the CR-Z concept hyrbid car would not be a bad idea, right?
Mahindra hybrids
Update: Mahindra electric car coming
Mahindra already has a micro hybrid Scorpio in the Indian market, and it is well-known that the company is working on hybrid technology – so it is reasonable to expect that some hybrid variant of the Scorpio would make an appearance in the Mahindra pavilion. No launches of hybrid vehicles are planned, however.