Offroading is a recreational sport and it can be great fun. However, it's also quite demanding and you need some equipment to make sure you get back home safe and sound after each trip. CarToq pieces together some of the essential offroad gear you need to carry in your jeep or SUV.
Of course, the primary requirement for an offroad adventure is a four-wheel drive vehicle – preferably one that has high-ground clearance, a powerful engine and a low-ratio gearbox. Also see: India's best offroaders below Rs. 25 lakh
Once you have your 4×4 offroader ready to take on the trail here are some essentials to kit it out with that will ensure you have fun on the trail, stay safe and come back with plenty of adventurous tales to tell. For some, this is a just part of the daily grind.
Tow strap
One of the basic facts of offroading is that someday you are going to get into a sticky situation. You need a good tow strap and a competent buddy to pull you out of trouble. Consider getting a 5-ton tow strap of about 5-meters in length, along with sturdy D-shackles to clamp on to your tow hook. The tow strap will come in handy not just to pull yourself out of trouble, but you can also earn some good offroad karma by pulling other adventurers out of the sticky stuff. Tow straps are better than tow chains, as they weigh less and won't damage body panels. Good tow straps cost about Rs. 2,500.
Winch
A winch is especially useful if you often go on offroad adventures on your own, without a buddy jeeper. Although it's always a good idea to have a friend in another 4×4 along to pull you out of trouble, sometimes you need to help yourself. Winches come in a variety of prices, sizes and load capabilities. The best brand in the business is Warn – and the range in India starts at about Rs. 68,000 for an 8000lb winch. There are cheaper Chinese makes available such as Runva, which start at about Rs. 30,000. Mounting a winch on your vehicle would require special chassis reinforcement and plates, as well as an upgrade of your battery if it's an electric winch. One can also get hydraulic winches, which run off the power-steering hydraulic circuit of your vehicle. Lamda is one company making such winches in India.
Hi-Lift jack
Regular wheel jacks are of not much use off road, because most often when a vehicle gets bogged down in sand or in a deep rut, one needs to lift it quite high to be able to put some support under the wheels for traction, or in the worst case, upright a jeep that is on the verge of tipping over! Hi-Lift jacks that can lift a vehicle to height of about 4-feet are priced from Rs. 5,000 upwards.
Sand ladders and shovel
If you plan to go dune-bashing in the desert, it would be a good idea to carry "sand ladders" with you. These are serrated aluminium planks that can be placed under the wheels of a vehicle if it starts getting bogged down in sand. One can also use wood planks of about 5-feet in length and 1.5 feet wide, but make sure they are thick enough to support the vehicles weight. These can be fabricated for about Rs. 1,500 a pair. A regular shovel that costs about Rs. 300 is also useful to dig out sand or snow from around the vehicle.
Portable air compressor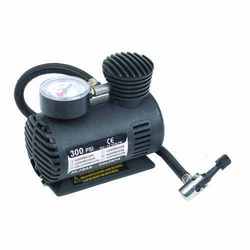 Especially when driving in the desert it's a good idea to carry a portable 12-volt air compressor. When you enter sandy terrain, you need deflate your tyres to the minimum possible safe pressure (about 22-24 psi) to ensure you get maximum surface width and the vehicle "floats" over the sand. But once you get back on tarmac, you need to re-inflate the tyres to normal pressure, for which you need the air compressor. It will also help in case you get a flat tyre while out on the trail, and you don't have the space to change the wheel (especially if you are in a slushy area).
Other optional equipment
Besides these essentials, always carry a first-aid kit, plenty of drinking water and a cellphone or other communication equipment such as walkie-talkies to contact fellow offroaders to help you out. You can also kit out your vehicle with all-terrain tyres or better still, mud-terrain tyres for much better performance off-road. If you want additional ground clearance, a suspension lift of about 2-inches for some vehicles like the Mahindra Thar and the Maruti Gypsy are a good idea and can be done by a good vehicle modifier.
There's no dearth to the amount of additional equipment that can be added. These include a snorkel that will help with fording deep waters and preventing water from entering the engine's air intake and a silencer snorkel to keep the exhaust out of water. For more extreme off-roading one can add differential locks to the front and rear differentials of the vehicle, a roll-cage to prevent damage in case the vehicle tips over and lower-ratio "rock crawler" gears. Of course, all this comes at a hefty price.
Also see: How to build your own off-roader