In the three days since its launch, Toyota Etios Liva has notched up bookings of 1,000. If the bookings continue at this rate, it will hit 10,000 in a month. Toyota Etios sedan too had a great launch with 7,000 bookings within 7 days, reaching 12,000 by the 15th day. Should you rush now to buy, or should you wait?
The booking numbers show that the Liva has potential to be amongst the top 3 brands in the premium hatchback segment. Maruti Suzuki Swift sells about 12,000 cars a month, while Hyundai i20 and Ford Figo do about 7,000 and 6,000 units a month, respectively.
While that's great news for Toyota Kirloskars Motors (TKM), it could once more mean long waiting periods for buyers. Toyota has plans to sell only 20,000 Livas over the next 6 months. Expect waiting periods of 10 weeks or more initially. Toyota might close bookings once it reaches 20,000 mark – it has done so earlier for Fortuner in the past – to avoid build-up of very long waiting periods. So if you really, really want a Liva, you may want to get in the queue NOW.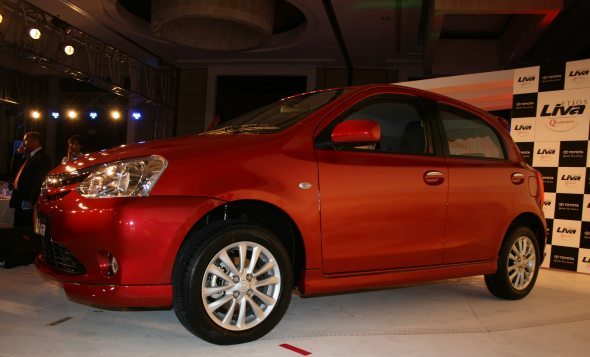 Or, you could wait to see what Maruti has to offer with its new Swift that's due anytime now. In some ways, Liva has set the benchmark for launch numbers for premium hatchbacks and it would be interesting to see if the new Swift can better it. That should provide some clues to the likely pecking order in the future.
And then there is Honda Brio lined up for October launch. So if you don't have an immediate need to buy a car right now, even if you miss the queue now, it might not be a bad thing.
While the auto sales growth has slowed down—17% growth in May 2011 against 31% in May 2010—there seem to be plenty of appetite for exciting new cars. Just before Toyota hit bull's-eye with Liva, Hyundai had notched up bookings in the mid-size sedans market, with 20,000 Fluidic Verna booked within two months of launch.
In general, we have seen spurt in sales/bookings when a new launch occurs—particularly by companies seen as large and credible players in the market. But the momentum doesn't always continues. It would be interesting to see if Liva can keep the interest high enough in the long term to make it permanent member of 'Top Three' club in the segment.