Multi-purpose vehicles (MPV) in India are getting an image makeover. Earlier, MPVs were seen more as commercial vehicles or cabs. But now carmakers have noticed that there is a need for compact, more stylish MPVs to cater to the large family buyer.
Maruti Ertiga
India's largest carmaker Maruti is trying to bag the first mover advantage in the family MPV space, with its Ertiga. The Ertiga is a 7-seater multi-purpose vehicle, which is quite car-like in styling. It sports three rows of seats and is ideal for large families. It will be powered by either a 1.4 litre petrol engine or a 1.3 litre diesel engine.
The top-end variant of the Ertiga is loaded with comfort features such as rear AC with independent controls, steering audio controls and integrated music system. At just 4.2 meters in length, it's compact enough to fit in most parking spaces. With just 5 people on board it has plenty of luggage space, much more than your average hatchback and comparable to large sedans.
We expect Maruti to price it aggressively, between Rs. 7 lakh – Rs. 9 lakh, catering to buyers who want a car-like vehicle that can carry more than five people occasionally, but don't want a more expensive MPV like the Xylo or Innova.
Chevrolet MPV Concept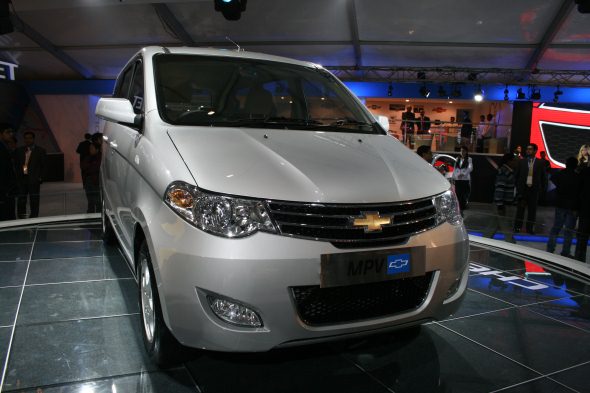 Chevrolet too showcased its MPV Concept that's slated for launch later this year. This MPV was developed in association with its Chinese partner SAIC and sold as CN100/Hong Guang in China. It's a proper 7-seater, but much more compact than the Chevrolet Tavera.
GM has played safe by keeping the looks of the MPV Concept neat and simple unlike the chrome-loaded Chinese version. The simplicity begins with the smiling chrome grille, minimalistic lines on the sides and a practical boot design with conventional tail-lamps.
The production version of the MPV Concept will be available with a petrol and diesel engine choice, but specifications are yet to be revealed.
We expect the upcoming Chevrolet MPV to be priced similar to the Ertiga (Rs. 7 lakh onwards), and cater to large family buyers.
Nissan Evalia
Another interesting MPV, which would probably take Toyota's Innova head-on, is Nissan's Evalia (earlier known as NV200). At first glance the Evalia is very van-like, considering it has sliding doors on the sides, a large tail-gate, and enough luggage space with seven comfortable seats. When you look at its practicality and space, it is an interesting proposition. The Evalia is likely to be powered by a 1.5 litre diesel engine with either 85 bhp of power or 108 bhp of power.
For buyers looking for a vehicle with good road presence and plenty of space, the Evalia checks all the right boxes. Depending on how Nissan prices it, the Evalia is another alternative to the Xylo or the Innova, although in the long-term we suspect the Evalia too may earn a bit of a commercial image.
Hyundai Hexaspace
Hyundai showcased the Hexaspace MPV concept. This isn't likely to make it into production anytime soon, but the design shows how space can be utilized to the maximum. It doesn't have a B-pillar and the doors open wide, allowing passengers to get in and out of the vehicle with ease. Flexible seating and a flat floor allow users to make the most of the vehicle's cabin space.
The production version of the Hexaspace may likely retain the overall shape, but will likely come with conventional front doors, sliding rear doors and a wide opening boot door. Expect three rows inside arranged in the 2+3+2 pattern.
If and when it does make it to production, this stylish MPV will make a strong case for itself among family buyers. Hyundai may closely watch the market response of Ertiga, Evalia and Chevrolet's upcoming MPV and craft the Hexaspace accordingly.
Conclusion
Clearly, car makers have sensed that large family vehicles will have a significant demand in the near future in India. Maruti Suzuki, Chevrolet, Nissan and the Hyundai are gearing up to capitalize on this forecast demand. So will Maruti's Ertiga manage to entice buyers, or will Chevrolet's MPV become a better hit than its Tavera? Let's wait and watch.