February and March are usually months when car sales begin to pick up ahead of the financial year ending, as many cars are bought as tax incentives. However, this year is a bit different – faced with rising petrol and diesel prices, buyers have been slowing down purchases of cars in the premium hatchback segment – what was once a fast growing segment but has now stagnated.
This year almost every premium hatchbacks' sales have dropped when you look at month-on-month sales numbers, except for the Maruti Swift. As a segment, the entire segment is down by about 6,300 cars overall compared to February last year despite the entry of a new car – the Chevrolet Sail U-Va in the segment. Also read: GM cuts Chevrolet Sail U-Va prices as sales slump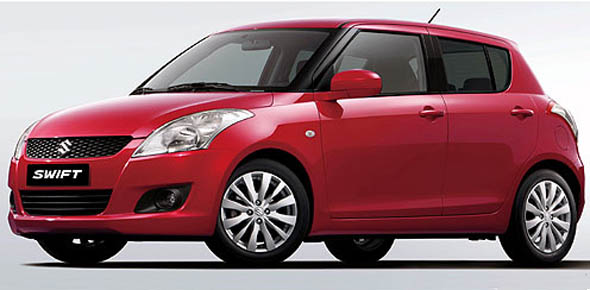 Maruti Swift sales increase
There's something about the Maruti Swift. While all others fell in month-on-month sales, this car has sold about 500 units more than the previous month at 19,534 cars, its highest since February last year. An increase of 500 cars comes despite no big offers on the Swift from Maruti, going to show how effectively the car has managed to capture a buyer's imagination. There is still a waiting period of a few weeks on the Swift (especially the diesel variant).
Others hit the brakes
Sales of the second-best selling premium hatchback, the Hyundai i20 have fallen by about 1,000 units in February to 7,605 cars from 8,655, which has prompted Hyundai to offer better discounts on the Hyundai i20 and i10 now. Ford too is offering deals on the Figo, a car that has seen its sales drop in February by over 1,300 cars to 3,804 cars compared to the previous month. Sales of the Polo, Liva and Micra have all fallen dramatically, while the Renault Pulse showed moderate growth. Also read: Tata Nano sales crash
At the bottom of the pack lies the Fiat Punto – a car that could have been one of the best selling in the segment, but has been knocked out of contention due to distribution, marketing and service issues. Now with Fiat gearing up for a huge dealership expansion, can this car bounce back? The Punto, despite attractive discount offers and among the best diesel engines, sold only 160 cars in February, down from 272 the previous month. The Skoda Fabia is no better, with sales dropping steadily (not being helped either by offers). Honda Jazz will no longer be sold for the next year, as Honda has discontinued it. It sold 185 cars last month. Also read:New launches hits and misses in past 3 months
What we think
Premium hatchbacks are in a price sensitive segment, where every Rs. 25,000 difference in price can swing buying decisions. Also with diesel having been deregulated and two price hikes in fuel happening in the past month, the fascination with diesel cars is bound to wear off. Premium hatchbacks are also a segment affected quite a bit by car finance interest rates – and although rates have dropped, buyers would have put off purchases expecting more sops in the Union Budget. March, therefore, should see a comeback for most of the carmakers, what with the number of deals on offer. Also read: February SUV sales, Duster surges, Aria almost dead
Source: Team-BHP/Industry data