The SUV market is the place where all the action is happening in India. It was the only market that grew nearly 56% last year overall, while others declined. In February 2013, SUVs are pretty much a mixed bag – some have reason to celebrate, others are almost stalling.
Here is a look at the big winners and the losers in the SUV segment in India. Also read: January car sales: Cars that improved the most
Big winners of February 2013
The Renault Duster sold its best ever number of SUVs in February 2013, clocking 5,590 units in the 28-day month, up from 3,554 units the previous month – a low figure there because of some production issues. The Duster had clocked over 5,000 units in October and November as well during the festive season.
The Mahindra Bolero at the low budget end of the SUV segment continues to be India's number one utility vehicle, selling over 10,000 units consistently. It clocked 10,053 units in February, a drop of about 500 units from the previous month, but not really a cause for concern, as it is still head and shoulders above the rest. Also read: New launches hits and misses in past 3 months
Sales of the Toyota Innova moved up by about 430 odd units in February, probably helped by corporate purchases ahead of financial year closing as well as fear of a price rise after the budget. The Innova sold 6,496 units in February, making it the number 2 vehicle in India in the utility vehicle segment (SUV/MUV).
At the premium end of the SUV segment the Toyota Fortuner continues to be the sales leader, selling a record level as well. The Fortuner (which is assembled in India using kits imported from Thailand) sold 1,515 vehicles in February, 10 more than January, which was its earlier record level. The second largest-selling SUV in that price segment (above Rs. 18 lakh to Rs. 25 lakh) is the Mahindra Rexton now at 476 units – just short of its target 500 units a month that the company plans to achieve. Third place is taken by the Mitsubishi Pajero Sport, which despite a lack of service infrastructure, has managed a respectable 270 units beating the Ford Endeavour and Skoda Yeti. Honda's new CR-V is still selling only in double-digit numbers at just 55 units.
SUVs losing traction
The Mahindra Scorpio and Mahindra XUV500 have slowed down a bit in sales. Waiting periods too are down drastically, with vehicles readily available with some dealers and taking just up to 3 weeks at the most in some cases. Scorpio sales are at 3,906 units, nearly 500 lower than the previous month. XUV500 sales have slipped another 300 units in February to 3,472 units, although it is still the best-selling vehicle in the Rs. 12 lakh to Rs. 18 lakh price bracket. The Mahindra Quanto and Xylo too have slipped in February. Quanto is down nearly 850 units to 2099 vehicles. Xylo is down about 200 vehicles. Tata's Safari and Safari Storme have not created much of an impression, with sales dwindling to 1082 vehicles from 2045 in January – which was one of its best month's in the past three years. Also see: Overview of car sales in January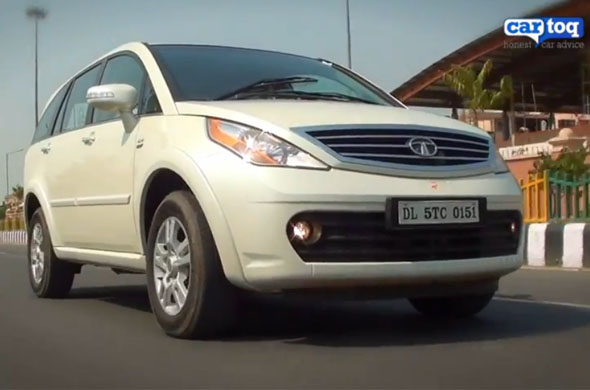 SUVs that hit a road block
And then there are those that have almost frozen up completely. The Tata Aria is a case in point – priced just lightly more than the XUV500, this vehicle sold just 4 units in February, one less than it did in December – where it sold just 5 units. January was better at 55, but still a far cry from what was expected of it. Nissan's X-Trail, Mitsubishi's Outlander and Montero as well as Maruti's Grand Vitara did not sell a single piece in February.
The next couple of months will be interesting to watch as the Ford EcoSport will debut, as well as one needs to see how the hike in excise duty on SUVs in the Union Budget will affect sales.
Data source: Team-BHP/ Industry data