Fiat Grande Punto in June 2009 – Rejoice!
April has been a bad month for us – no new car or bike launches, no major gossip leaking out… a bit dreary. And who wants to keep writing about which car company sold how many cars?
Anyway, all that is about to change. We are waiting for the launches of two excellent cars – the Fiat Grande Punto India launch will happen in June 2009, while the Suzuki Ritz will be launched soon afterwards. Even Volkswagen Polo, another favorite car for everyone has just started pre-series production. Things are picking up, baby!
What's the big deal about the Fiat Grande Punto? Well, the Fiat Linea launched a few months back saw the beginnings of a revival for the embattled car company in India. They don't look so embattled anymore, do they? I mean I drive a Civic, and every time I see a Fiat Linea on the road, I want to give chase. Elegance, baby. And the Fiat Grande Punto has the ability to take Fiat further along this road, and give the company the place it deserves on Indian roads. It is after all designed by Giorgetto Giugiaro  and was a super hit in Europe – and I think we can bravely predit that the same would happen in India.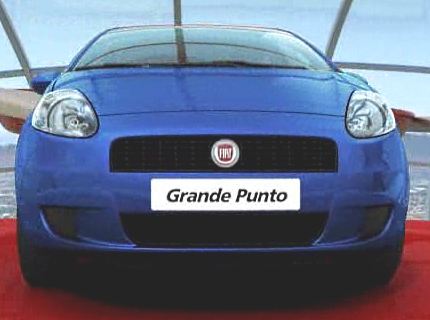 Price
First, the Fiat Grande Punto is a hatchback. It is a pretty large-ish hatchback too. It shares its platform with Linea and is quite a looker – the front grille is very Linea-like. It is expected to be priced quite well – between Rs 5 to 6 lakhs – and at that price, it can easily take the battle to the i20, Fabia, the upcoming Honda Jazz and the Volkswagen Polo. Fiat has been smart with its prices earlier; and there is no need to doubt that it would be a very attractive buy for someone looking for a spacious large hatch. Honda has always priced its cars a bit above what people are willing to pay – and still made it work. Example: the new Honda City. Fiat has managed to price its latest car are very appetising levels – Example: Fiat Linea. I believe that much as I like the Honda Jazz (which is quite a beautiful car), the Grande Punto will be able to stand on its own as a very good avlue for money car that is also a good-looker.
Engine – petrol and diesel
The Fiat Grande Punto will come with two engine options: a 1.2 liter petrol, and a 1.3 liter multijet diesel. The petrol Grande Punto will offer 65 bhp, not enough to make it the hottest petrol hatch on Indian roads, but will do. The diesel multijet version is where Fiat is strongest, what with its multijet diesel finding its way into many cars in India. The 1.3 liter super sweet diesel engine will offer 75 bhp – and great mileage as an appetiser. If Fiat manages to offer decent interior trim too, the Grande Punto hatchback is going to be a winner.
People are already losing their negativity about Fiat cars post-Linea, and a value-for-money, elegant hatchback will make them a company in contention again.
Abroad, the Fiat Grande Punto is available in a three-door version too, but we are going to get the five-door hatchback in India.
The Grande Puntos have people have seen in India have been very good frm the outside – but Fiat has to get the interiors right too. Plastic quality, upholstery and fit and finish have to be just right for the price. The size of the car, excellent luggage capacity, design and engine will be the advantages – and the company should not lose it when it comes to the interiors.
Safety and airbags
The Fiat Grande Punto is inherently a safe car. No one doubts that. However, airbags have been one area where car companies in India choose to cut costs – so we have to wait and see if all versions of the Grande Punto will feature airbags or not. We hope they would be standard in the top end versions, and at least an option in the base version.
We have a couple of photos of the Fiat Grande Punto here for your viewing pleasure. Enjoy!