In the past six months, the Fiat Linea has sold a little over 4,400 cars. In the same period, Maruti Suzuki sold more than 14,800 units of the SX4 and Volkswagen sold more than 17,500 units of the Vento.
It seems that the Linea is set to join the ranks of the company's other models—such as Palio—that faded away after a strong start.
The downtrend has become more extreme in the recent months. In June 2011, Fiat sold 350 units of Linea, less than half of what the company sold in May 2011 (845 units).
Even in the months prior to May, the Linea's sales were around 800 units only, while its rivals such as the Vento and SX4 managed to clock 2,500 units on an average.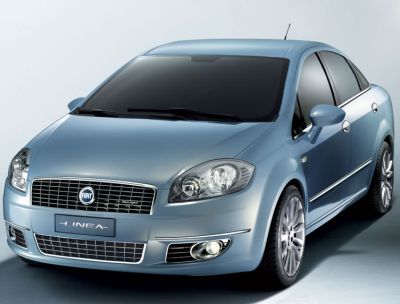 Honda City, too is back in the hunt post it's price cut and has sold over 2,500 cars in June, 2011. With the excitement around the new Fluidic Verna and Ford Fiesta, things could get tougher for the beleaguered Fiat Linea.
But why should that be the case?
Linea had a lot going for it, it is great looker. Two, it has an excellent ride. Three it is a 'BIG' car in fact it is as big as the Toyota Corolla Altis and the Honda Civic. And what is equally important is that it has an excellent diesel engine.
Yet, all the pluses are put to naught by one big Minus:
Troublesome ownership experience
Fiat's inability to put in place a quality after-sales service network despite being in the country for 14 years, has been disappointing. Worse, it has led to poor resale value too.
The technology (mainly the electronic equipments) used in the Fiat Linea and the level of expertise needed in handling it demand higher equipment levels. It also requires more experienced technicians than are presently available in many Tata-Fiat service centres.
Lack of proper service network force some of the Linea owners to live with the niggling issues in their cars—not a good feeling! That also leads to a very weak demand for used Linea's resulting in poor resale values.
Two-year old Linea's are available at less than half their original price. And even then, you'd be lucky to find a buyer. Its competitor, like Honda City, retains more than 60 percent of its value even after three years.
Fiat's association with Tata Motors for sales & service network was suppose to address this issue but hasn't. There were reports that there will be few exclusive Fiat outlets but nothing has happened yet.
The volumes are perhaps too low to justify the expense. But without that, the volumes might remain low. It's a chicken and egg situation.
Other factors
•  Underpowered Engines: The non T-Jet models were a little short on power as Fiat went all out for fuel efficiency. While most competing cars have 104-126 BHP on tap, Fiat had only 90.
•  Average Fit and Finish: The non T-Jet models did feel as well built as earlier Fiats. And its finish was no match for swish Honda City and Volkswagen Vento.
•  Loaded Quotient: When launched in 2009, the Fiat Linea had features like Bluetooth (Blue & Me), a rear AC vent and steering mounted audio controls, all of which were segment firsts.
However, now, most cars in the segment boast of these features along with new features like USB port, Auto-folding outside rear view mirrors, Aux-in port, reverse parking camera etc.
In 2010, Fiat addressed some of these issues with the introduction of Linea T-Jet and T-Jet Plus (both petrol powered) that had 113 BHP engine and plush leather upholstery. The fit and finish was notch higher too. But by then petrol prices had skyrocketed and petrol cars were out of fashion.
Conclusion
There is not much wrong with Linea, the car. Power issues (for petrol version) and fit and finish have already got addressed by T-Jet models. Fiat has an excellent 104 BHP 1.6 Multijet that can take care power issue in diesel variant.
But until Fiat resolves after sales service and regains the trust of customers at large, Linea would continue to struggle. And Fiat might not have too much time, or too many chances. It has had too many false dawns already.