Fiat Linea is a much-loved car – but not by automobile enthusiasts. Reason: Not powerful enough. The 1400cc petrol engine is just not enough to give you driving pleasure. The car definitely offers a lot else, but sheer driving pleasure is not what you get from the Linea. Even the diesel version is not close.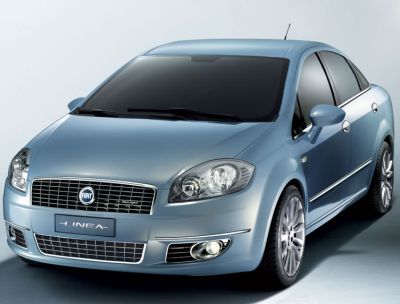 That complaint will be over when Fiat launches the Linea T-Jet at the upcoming Auto Expo 2010 at New Delhi in January. The 1400 cc petrol engine now gets a turbocharger, and that means a stupendous boost in sheer horsepower. What the Linea T-Jet offers you is 120 PS @ 5000 rpm. That takes to to the same level of power output as the all-new Honda City, which is the flavour of the year since it was launched. Max torque is believed to be 206 nm.
Top speed, 0-60 acceleration timing and overall drivablity are all expected to go up with the arrival of the Fat Linea T-Jet. Price would go up too, and we would guess the Linea T-Jet would be priced at least Rs 1.5 lakh more than the current petrol Linea top-end version. Almost one year after the launch of the Fiat Linea in India, it gets an engine it deserves. Great news indeed.
There is also much talk online about a rumoured hill-holder function in the Linea T-Jet. Essentially, this makes sure that the car does not roll back when you take your foot off the brake to move it to the accelerator. That is a welcome addition – the less riding the clutch, the better for your car. And less stress on the driver, obviously.
At the Auto Expo pavilion, Fiat will also show off the flagship model the Fiat 500 alongside the new Linea T-Jet. Also rumoured is a 1.9 liter diesel version of the Linea, but this is a rumour that is dying off – so it may not happen at all.
Fiat recently announced that the company is planning a small car for India for a 2011-2012 launch. Fiat currently sells the Punto medium hatchback car and the Linea in India. A new facelifted version of the Fiat Palio is also planned, and even this might make an appearance at the Auto Expo. 2010 is going to be an interesting year!