We've all seen cars that claim to offer the best fuel economy, and rightly so in a mileage-conscious country like India. But which are the vehicles with the worst fuel economy under Rs. 25 lakh? We track them down for you.
These vehicles are very competent in other areas such as performance and comfort, but just don't cut it when it comes to fuel economy. And it's not surprising that these vehicles hardly sell in two digit figures each month. Of course, there are buyers who still pick these vehicles, as not everyone has fuel economy as a major parameter for buying a car.
Interestingly, all the vehicles that have the worst fuel economy (as per user feedback and ARAI figures), are among the best in other areas such as high-speed performance, off-road use and ride comfort. None of the top-five give more than 10 kmpl.
Surprisingly the vehicle with the worst fuel economy is not a petrol vehicle as one would expect, but a diesel!
Mitsubishi Pajero SFX
Overall mileage: 8 kmpl
The Mitsubishi Pajero SFX is a very competent off-road vehicle, but just doesn't seem worth its price tag of Rs. 21 lakh. It comes with a 2.8 litre direct injection diesel engine that puts out 109 bhp of power and 275 Nm of torque. That's lower than vehicles nearly half its price like the Mahindra Scorpio and Tata Safari. However, take the Pajero off-road and very few can come close to the kind of rugged performance the Pajero can put out. It has short gearing (which means the engine revs to higher rpms for a given speed) and this takes quite a bite out of fuel economy.
Skoda Superb 3.6 V6
Overall mileage: 8.5 kmpl
The Skoda Superb is an excellent car for ride comfort, highway cruising and features. In fact, it has features that would put a Mercedes E-Class to shame and costs just half as much. The diesel Superb and the 1.8 TSI Superb also offer good fuel economy. However, the performance-oriented Superb variant, which has a 3.6 litre six-cylinder petrol engine and six-speed automatic, with a  whopping 257 bhp of power and 343 Nm of torque delivers very little when it comes to fuel economy.
Mitsubishi Outlander 2.4 MIVEC
Overall mileage: 9 kmpl
The Mitsubishi Outlander is a very competent soft-roader. It can handle highways with ease and also moderate off-road conditions, keeping passengers comfortable. It has excellent driving characteristics and a good audio system. It is powered by a 2360 cc, 160 bhp petrol engine with 226 Nm of torque and a CVT transmission with six-preset speeds, with paddle shifts. It has selectable four-wheel drive too. But at a price tag of Rs. 20.6 lakh and poor mileage, it sees very few units being sold each month.
Honda Accord 3.5 V6 AT
Overall mileage:  9 kmpl
The Honda Accord V6 is a completely performance oriented luxury car. It has a very competent 3.5 litre six-cylinder petrol engine with a five-speed automatic transmission. It puts out 272 bhp of power and 339 Nm of torque. The Accord is a fantastic highway cruiser and the V6 engine helps in quick overtaking and very good pick up. But if you drive it in a performance-oriented way, mileage is known to dip as low as 7 kmpl. At best of times, it doesn't give over 9 kmpl.
Maruti Grand Vitara 4×4 AT
Overall mileage: 9 kmpl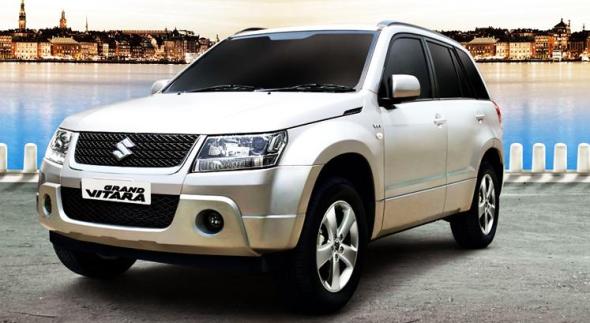 Many times we've heard people say, if only the Maruti Grand Vitara came with a diesel engine. If only. Well, it doesn't and that's why it hardly sells even a couple of units each month. It is powered by a 2.4 litre petrol engine that puts out 164 bhp of power and 225 Nm of torque. It comes with both a 4-speed automatic transmission and a 5-speed manual variant. The manual just about redeems itself by barely touching 10 kmpl, but the automatic can just touch 9 kmpl if driven with a light foot. It is a good all-round SUV with excellent off-road capability too. It has a permanent four-wheel drive system with a low-ratio gearbox.
Honorable mentions
While these five are definitely among the vehicles that give the least fuel economy, there are others that deserve honorable mentions. When driven with a heavy foot, these vehicles too come into single digit fuel economy. These include the Renualt Fluence 2.0 petrol with a CVT transmission, the Maruti Kizashi, the Ford Endeavour 3.0 AT 4×4 whose bulk is its undoing, the Honda CR-V which barely gives 10 kmpl on a good day and the Nissan Teana – another very nice luxury car that has almost been forgotten in the Indian market.
Of course, if you go up the price ladder into super car, sports car and luxury car league, single digit fuel economy is almost the norm! Tell us what you think are other vehicles that don't give great fuel economy at all among the more affordable cars in India.