(Updated, February 2013)
If you've been waiting to buy an SUV, here are five good ones that are likely to hit the market in the next five months. These new SUVs are positioned across price segments from budget compact SUVs up to the luxury SUV market.
CarToq lists the five SUVs to watch out for in the next five months.
Tata Safari Storme
Expected launch: September 2012  (Launched October 19, 2012)
Read the launch update: Tata Safari Storme launched at Rs. 9.95 lakh
Read the road test and review: Tata Safari Storme road test and review
The Tata Safari Storme is one of the most eagerly-awaited and much-delayed SUVs that will come into the market. It will now be launched in September. The Storme is a huge improvement over the existing Safari. It will, however, coexist with the existing Safari and will be positioned just above it in terms of pricing. The Storme has a Range Rover inspired frontal styling with projector headlamps and a redesigned tailgate with the spare wheel now under the vehicle. The side profile looks similar to the existing Safari. The chassis has been adapted from the Tata Aria and the engine too has got a few tweaks which make it much more refined.
Why wait for it?
The Safari Storme promises fresher styling and will appeal to Safari fans who've gotten bored with the existing Safari's looks. It also promises better fit and finish, better refinement levels and most of all, a world of difference in handling, which should make it much better to drive than its closest competitor the Mahindra Scorpio. It's likely to be priced between Rs. 9.5 lakh and Rs. 13 lakh.
Read more: Tata Safari Storme-Driven!
Ford EcoSport
Expected launch: February 2013
The Ford EcoSport is also one of the most-awaited compact SUVs after the Renault Duster. The EcoSport will likely expand the market for compact SUVs in India, providing buyers a decent range of choice as against similarly priced sedans. The EcoSport will have many firsts to its name including a 1-litre, three-cylinder EcoBoost petrol engine that churns out 120 bhp of power (as much as an equivalent 1.6 litre engine) with the fuel economy of a small hatchback. It will also come with a 1.5 litre diesel engine, which is likely to be the larger selling model. Some reports also suggest that Ford may offer the dual-clutch automatic transmission as an option too.
Why wait for it?
The Ford EcoSport promises to be a great urban SUV. It has a high driving position, good road presence and yet is compact enough to maneuver in city traffic. The EcoSport may be aggressively priced too because Ford can take advantage of excise rules that apply to small cars, as the EcoSport measure exactly 4 meters in length (without the spare wheel). But we don't expect it to be cheap either. At most, we expect it to be priced similar to the Renault Duster, with a price range of Rs. 7 lakh to Rs. 10 lakh.
Read more: EcoSport variants and engines 
Force One 4×4 (ABS)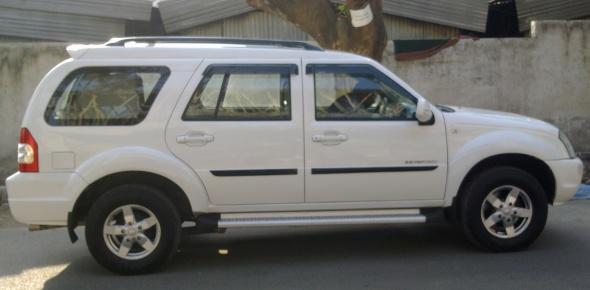 Expected launch: September / October 2012 (Launch postponed further)
The Force One SUV that was launched last year has had limited appeal in its 4×2 variant. That's because Force Motors also had very low targets – planning to sell only 4,400 units in the whole year. The Force One SUV will now be available with a Borg-Warner 4×4 transfer case that will make it a capable off-roader as well. It will also see the addition of some safety features such as ABS. The Force One is powered by a Mercedes derived 2.2 litre engine that puts out 140 bhp of power. It's big USP is the space that it offers in all three rows (as a 7 seater) and the refined diesel engine.
Why wait for it?
If you were looking for a go-anywhere SUV that didn't break the bank, the Force One 4×4 is probably one to look at. It is spacious, it can carry half your house, and with 4×4 it will take you places where few others can venture. The 4×4 variant is likely to be priced about Rs. 1.2 lakh more than the existing Force One SUV, which would give it an ex-showroom price of about Rs. 12. 5 lakh – just slightly more than the Mahindra Scorpio 4×4 VLX and slightly lower than the all-wheel drive Mahindra XUV500.
Also see: Force One expert review
Mahindra Ssangyong Rexton
Mahindra Ssangyong Rexton launched (October 19, 2012)
Also read: Mahindra Ssangyong Rexton road test and review
Or watch: Mahindra Ssangyong Rexton VIDEO review
The Mahindra Ssangyong Rexton will take Mahindra further up the value chain with its SUV portfolio. The Rexton is based on an old Mercedes design and is a pretty spacious SUV. It will compete with the Chevrolet Captiva and the Toyota Fortuner, but knowing Mahindra, it will be quite aggressively priced. The Rexton It is expected to be powered by a 2.7-litre turbocharged common-rail diesel engine churning out 182 bhp of power and 402 Nm of torque. We expect the Rexton to come in both 5 speed manual and five speed automatic variants.
Why wait for it?
Mahindra is pulling out all the stops to get into the luxury SUV space with the Korando and Rexton. The vehicle will be assembled at its plant in Chakan in Pune, which will help keep costs low and hence allow Mahindra to play the price car quite well, like it has done with the XUV500. The Rexton will likely be loaded with features such as all-round disc brakes, an optional all-wheel drive system, multiple airbags, tyre-pressure warning, Bluetooth and even a collision warning mechanism. The Rexton is expected to be priced between Rs. 18 lakh and Rs. 20 lakh.
Read more: Mahindra Rexton Spy Photos 
Mahindra Quanto
Update: Mahindra Quanto launched!
The Mahindra Mini Xylo is not really an SUV, but more of an MPV. Still it will compete with compact SUVs like the Premier Rio on one hand, and with premium hatchback such as the Toyota Liva and Hyundai i20 on the other. It will likely be price positioned below the Renault Duster and Ford EcoSport, and will be more utilitarian in nature. The Mini Xylo is expected to sport a 1.5-litre three-cylinder diesel engine with twin-turbo technology that will bump up power to about 100 bhp. The vehicle will be based on the existing Xylo chassis, but has been shortened to under 4-meters in length. It will essentially be a 5-seater with two jump seats in the boot for kids.
Why wait for it?
The Mahindra Mini Xylo is a good alternative for those looking for a spacious vehicle, and with a high driving position at hatchback prices. It will be fuel-efficient and since it still has a traditional ladder chassis, with body bolted on, it will also be quite rugged and good for rough roads. The Mini Xylo may cater to the semi-urban and tier 2 city markets better than it will in the metros. Since it complies with small-car excise duty norms, expect Mahindra to price it quite aggressively, between Rs. 5 lakh and Rs. 7 lakh.
Read more: Exclusive first-drive with a pre-production mini-Xylo!
Do share your thoughts on which of these SUVs you think will really make an impact in the Indian market.
[poll id="49″]