Traditionally, fuel economy has never been a strong point with SUVs, but that has been changing with the new breed of SUVs coming in to the Indian market that have been claiming higher and higher fuel-efficiency figures.
The bulk of SUV sales are between Rs. 7 lakh and Rs. 12 lakh, between the Mahindra Bolero, Renault Duster, Mahindra Scorpio, and the Tata Safari, with only small volumes coming in from the Mahindra Thar, Maruti Gypsy, and Premier Rio. The Mahindra XUV500 a segment above also contributes significantly to SUV sales. Among these, which are the most fuel-efficient SUVs? And then you have MUVs such as the Toyota Innova, Maruti Ertiga, Mahindra Xylo, Chevrolet Tavera and Nissan Evalia also claiming good fuel economy.
We tapped into our community ratings database, which has all cars, SUVs and MUVs under Rs. 25 lakh rated on various parameters for some answers. Here is a look at the top-five most fuel-efficient SUVs and MUVs under Rs. 12 lakh.
Maruti Ertiga (* * * * *)
Claimed mileage: 21 kmpl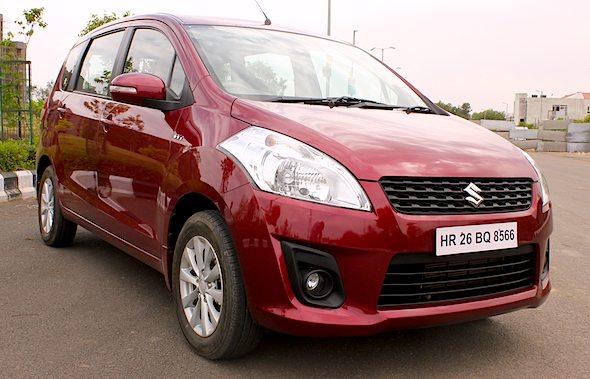 The Maruti Ertiga lives up to what the brand stands for – and that is fantastic fuel economy. The Ertiga gets a well deserved five-star rating for its fuel economy, with a claimed 21 kmpl for the diesel variant. The petrol has a lower rating of only three stars with 16 kmpl claimed mileage. The Maruti Ertiga diesel is powered by a 90PS variant of the 1.3 litre multijet diesel engine that is also present in the Maruti Swift and Maruti Dzire, as well as the Maruti SX4. This engine is known to be highly fuel-efficient, easily clocking over 20 kmpl on the highway.
Renault Duster (* * * * *)
Claimed mileage: 20 kmpl
The Renault Duster comes away with a stellar five-star rating when it comes to fuel economy. The Duster has a claimed 20 kmpl for the 85PS diesel variant and 19 kmpl for the 110PS diesel variant, while the petrol is a measly 13 kmpl. Since it is the diesel that is the one in hot demand with both the 110 and the 85 selling equally well, the Renault Duster deserves top honours on fuel economy. During our road test of the 110PS variant of the Renault Duster, we managed a respectable 15.8 kmpl overall, including some mountain driving, going to show that this compact SUV can be low on running costs as well, although the five-star rating is the for the 85PS variant.
Nissan Evalia (* * * *)
Claimed mileage: 19 kmpl
The Nissan Evalia shares its 1.5 litre diesel engine with the Renault Duster 85PS and it's no wonder then that this Evalia too rates very high on fuel efficiency. It has a claimed mileage of 19 kmpl, obviously lower because of a weight disadvantage compared to the Duster, but good enough for a four-star rating. The Nissan Evalia's USP is the superb interior space it has making it one of the most comfortable and spacious seven seat MUVs in the market. During our road test, we didn't get enough of an opportunity to do a full-fledged mileage measurement, but going by reports, the Evalia gives between 13-14 kmpl in normal city conditions. Also read: Nissan Evalia road test and review
Mahindra Xylo (* * *)
Claimed mileage: 15 kmpl
The Mahindra Xylo base D4 variant is the most fuel efficient of the range of Xylos. It claims 15 kmpl and cab operators using the Xylo claim it consistently gives them over 13 and close to 14 kmpl in city conditions, ferrying passengers around. In our ratings, it gets a three star overall rating, sharing the score with the Mahindra Scorpio and Tata Safari Dicor. The Mahindra Xylo is powered by a 2.5 litre engine that puts out 95 bhp of power in the D4 and D2 variants, while the E4, E6 and E8 variants get 112 bhp of power. The E9 variant of the Xylo shares the 2.2 litre Mhawk engine with the Mahindra Scorpio and is equally fuel efficient. Also read: Mahindra Xylo road test and review
Toyota Innova (* * *)
Claimed mileage: 13 kmpl
The Mahindra Scorpio 2.2 Mhawk and the Toyota Innova are more or less evenly matched when it comes to fuel economy. However, going by user feedback, the Toyota Innova is consistent in its mileage, giving over 12.5 kmpl in real world conditions, while the figures for the Mahindra Scorpio vary considerably, hovering at an average of about 12 kmpl. The Toyota Innova is powered by a 2.5 litre diesel engine putting out 102 bhp of power, compared to the 2.2 litre in the Scorpio putting out 120 bhp of power. The Innova's engine may not be a fun-to-drive unit but once out on the highway, it is fairly fuel efficient, one of the reason why commercial cab operators prefer it (besides the space advantage). Also read: Top 5 most fuel-efficient SUVs