Commercial vehicle manufacturer Force Motors will soon spawn two new vehicles, a passenger van and a new Gurkha 4×4 SUV.
New Passenger van
Force Motors is readying a people mover which will 'supposedly' take on the Tata Winger in the commercial vehicle segment.
"We will be launching a van by the end of next year. We already have the Traveller. The new van will be smaller and will cater to the personalized vehicle space." Prasan Firodia, Managing Director of Force Motors was been quoted as saying by Livemint.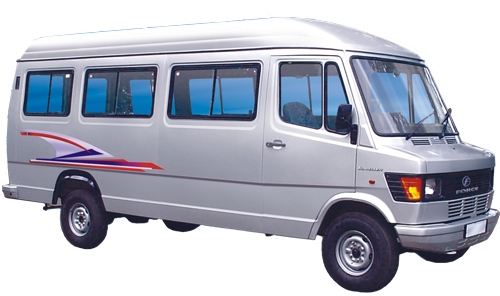 He added that the upcoming vehicle (8-9 seater van) will target the hospitality sector and large Indian families.
Force Motors is gradually penetrating into the people mover and private SUV domain. The company is planning to open separate dealerships for selling its passenger vehicles such as the upcoming Foday Explorer based Force SUV.
Many test mules of the Force SUV have been spotted, indicating that its launch is not too far away. The new passenger van, that Firodia had mentioned, could also be sold via the new passenger vehicle dealerships like the new SUV. Also read: Force Motors readies action plan to sell SUV; aims to sell 4,000 units in first year
Though there are no clues as to which engine will power the upcoming passenger van, there are chances that Force motors will use a Daimler engine owing to the company's engine-sharing trends with Daimler,.
Force Motors may also explore using the Tempo Trax Gurkha 4×4 vehicle's engine in the passenger van. The Trax Gurkha is powered by a 2.6 litre BSIII motor that produces a modest 75 hp of maximum power and 195 Nm of maximum torque.
The only obvious potential rival for the upcoming Force van, the Tata Winger is powered by 2.0 litre BSIII diesel engine that makes 68 bhp of maximum power at 4,500 rpm and 115 Nm of maximum torque at 2000~3000 rpm.
New Gurkha 4WD SUV
Force Motors also plans to launch a refreshed Gurkha in November 2011. Prasan Firodia, who shared this information, did not give out other details about the vehicle. Though, Force Motors has stopped selling the Gurkha 4WD SUV for a while, the face-lifted version, with a more powerful engine, improved mechanicals and better interiors could attract certain off-road enthusiasts.
Force Trax Gurkha 4WD is powered by a TD 2650 FTI, 2,596 cc engine (BS III) that makes 75 hp of maximum power at 3,200 rpm and maximum torque of 195 Nm at 1,800-2,000 rpm. The Trax Gurkha has advanced off-roading features such as a manually lockable front and rear differentials, with shift-on-the-fly four-wheel drive, but the under-powered engine may fail to fully utilize the strong chassis. Also read: Force Motors SUV: We've Got New Spy Shots!
The seating capacity of the Trax Gurkha 4WD is seven people. The build quality is utilitarian at best and priced close to Rs 8 lakh. The new Gurkha could possible get better interiors justifying its wholesome price tag.
Currently, Force Motors sells the Traveller (passenger van), Trax Judo (MPV), Trax Gurkha (SUV), Trump (small truck) and a tractor. The Tempo Traveler which was based on the Mercedes-Benz T1N Sprinter is volume puller and almost enjoys monopoly in the market.