Full list and short reviews of all Ford cars in India, from the venerable old, but super-popular Ikon small sedan, the SUV Endeavour and the new smart kid on the block Figo.
Ford has had a long association with India – over a 100 years! It has been in the country since 1907 when it launched the Model A here.
In 1926, Ford India was established, but the operations were discontinued in 1954. Again in 1995, Ford Motor received government approval to establish a 50:50 joint venture with Mahindra & Mahindra, and Mahindra Ford India Limited (MFIL) was set up which made the Ford Escort and assembled the Mondeo. Both models have since been discontinued.
In November 1998, Ford received approval to increase its stake in the joint venture to 92.18 percent. The company was re-christened Ford India Limited. It now has a modern, integrated manufacturing facility in Maraimalai Nagar near Chennai. It makes the Figo, Ikon, Fusion (now discontinued), Fiesta and Endeavour in India.
Ford Figo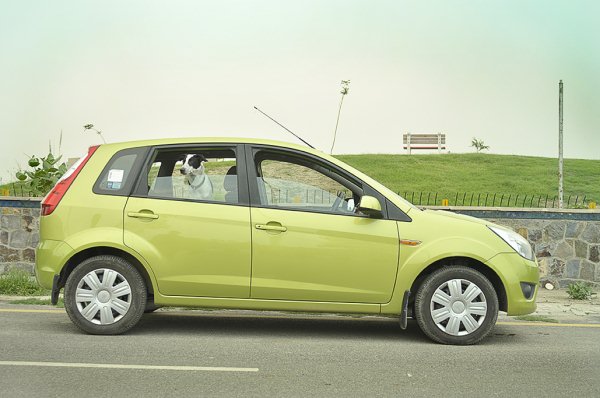 The Ford Ikon continues to sell in limited numbers, though the design is showing its age despite Ford giving it a facelift. There are two versions of the Ikon on offer – one with a 1.3 litre ROCAM petrol engine that puts out 70 bhp at 5,500 rpm and 105 Nm of torque at 2,500 rpm, and the other with a 1.4 litre duratorq diesel engine that puts out 68 bhp at 4,000 rpm and 160 Nm of torque at 2,000 rpm. Related: Ford IKon DuraTorq
Ford has given the Ikon subtle design changes such as grooved headlamps, a smaller grille, and an air dam. It also gets some features from the other cars in the Ford stable such as an electric boot release.
The Ikon has always been a great car to drive, because of its precise handling and good all round visibility. However, the present engines on offer don't make it as peppy as the 1.6 litre petrol version which has now been discontinued.
The Ikon is available from Rs. 4.97 lakhs for the petrol and Rs. 5.59 lakhs for the diesel, ex-showroom Chandigarh.
Ford Fiesta
Ford India launched its premium midsize sedan – the Fiesta – in 2005. The car offers exceptional driving comfort and is highly stable on rough Indian roads.
The front of the Fiesta has a slightly mundane look, save for the 'cut into the hood' headlamps and the aggressive fog lamps. The boot is now not as high as the Ford Ikon, fabrics and plastics have been well thought out, and there are small little cubby holes everywhere. The car features anti-roll bars and an improved integrated sound system.  Overall, the car seems quite deserving of the effort that has gone into it.
The interiors impart a feeling of freshness with plenty of chrome inserts used. The air conditioner vents resemble the ones on the Chevrolet Aveo; which close completely.
The interiors of the Fiesta offer the perfect blend of luxury and functionality. The cabin is made up of sturdy plastic. A high-tech audio system – 6 CD player (2 Din) with 6 speakers – is integrated in the dash, along with an elegant instrument cluster.
The cabin of this sedan is also equipped with reading lights and a number of small storage spaces.
The Fiesta is available in seven variants; the Fiesta Duratec 1.4 TDCi EXI, 1.6 Duratec EXI, 1.6 Duratec ZXI, 1.4 TDCi ZXI, 1.6 Duratec SXI, 1.4 TDCi SXI and 1.6 S. The 1.6 also has a variant with leather upholstery.
The Fiesta Duratec 1.4 EXI is equipped with a 1.4-litre, 81 bhp engine that dishes out 127 nm of torque. The Fiesta Duratec 1.6 sports a 100 bhp engine that gives out 146 Nm of torque and the Fiesta 1.4 TDCi has a 1.4-litre, 67 bhp engine that forks out 160 nm of torque. A 5-speed manual transmission is standard across all trims.
Fuel economy figures are 10.5 kmpl in the city and 15.3 kmpl on the highway for the 1.6 petrol and 14.9 in city and 17.8 kmpl on the highway for the diesel.
Ford also says the Fiesta is the safest car in its segment as around 400 crash simulations were done during the development phase of this car, with every simulation taking around 5 hours of a super computer. Also there are lots of advanced safety features present that includes driver airbag, ABS with EBD (electronic brake-force distribution), anti-theft engine immobilizer, child lock, central locking, anti submarine seats, fuel cut off in case of a collision and ELR (emergency locking retractor).
Prices range from Rs. 6,23,000 to Rs. 8,21,000, on road Delhi.
Ford Endeavour
This is one tough, heavy-looking SUV. No matter how many changes, Ford makes to its design, this still looks like it has been hewn from a solid block of granite. Recent story: Ford Endeavour automatic
The Endeavour is a true SUV with a ladder-frame chassis. The Endeavour was relaunched in September 2009 and one must admit the extended headlights, new grille and front bumper do add that extra zing and style to the Endeavour. The giant still retains its tough, macho personality and now, also sports a refined, bigger and more powerful engine. Ford offers two engine choices – a 2.4 litre producing 142 bhp and a 3-litre producing 155 bhp. Peak torque is available in both models at the 3,300 rpm mark. Related: SUVs in India
The Endeavour's suspension has also been reworked and both, ride and handling are better. However, most buyers do not opt for the 4×4 variant, which is unfortunate as it is one of the few four-wheel drives that can take you deep into the bush and back. Rolling into a corporate meeting in one of these is not a bad entry too. Proper off-road enthusiasts will benefit from the larger 3-litre engine, though it now comes only with a 5-speed automatic transmission in 4×4 guise. Ford has also recently launched a 2-wheel drive 3-litre automatic variant.
Prices range from Rs. 16,25,000 to Rs. 18,69,000, ex-showroom Delhi.