Every once in a while comes a vehicle that has customers begging dealers to just cash in their cheques. It happened with the Renault Duster and the Mahindra XUV500, and now, it's playing out all over again with the Ford EcoSport.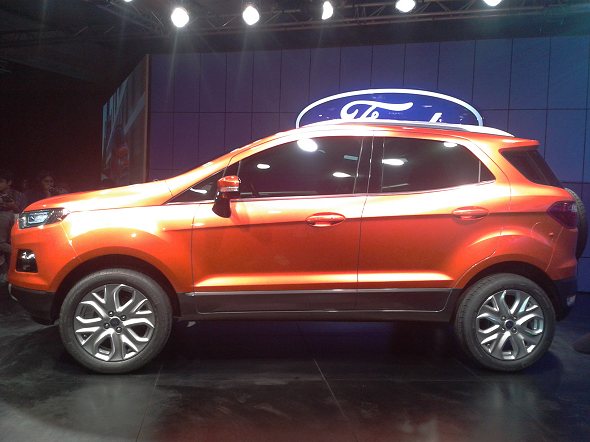 Reports surfaced on the Internet that dealers have started taking bookings for the Ford EcoSport with a launch scheduled for end February. However, when we contacted Ford, the company denied any official notification having been given to dealers to start taking bookings and also didn't officially give any date for its launch.
Unofficial bookings begin for EcoSport
However, we called a couple of Ford dealers and got some interesting responses. Across dealers the excitement of a vehicle that can drive in large volumes is palpable – they feel the EcoSport will be a sell out, even beating the Ford Figo in sales numbers.
A large Ford dealer in West Delhi said although the company has not yet officially announced prices or variants, the dealer said they would happily accept a booking for the EcoSport by paying Rs. 1 lakh, fully refundable. The dealer said this would guarantee that we would get delivery from the first batch of EcoSports that they would receive. Also see: Ford EcoSport official photo gallery
When queried about when the vehicle would be available for inspection at the showroom, and when a launch was likely – the dealer said mid-February. That got our hopes up and this ties in with the plan that Ford had outlined sometime ago.
But when we checked with another South Delhi dealer, they said they were not taking bookings, although they too had heard that other dealers were taking bookings. They offered to call back at a later date with more information and also told us that they heard the vehicle was launching in March 2013. This seems more realistic – that a launch could happen in March, and official bookings in February. Also read:CarToq community votes EcoSport as most-awaited SUV
Now that's two sides to the same thing. However, in Chennai the vehicle has landed up at some dealerships, probably for staff training and a preview for the service stations. Meanwhile, Ford is officially doling out information on its new 1-litre EcoBoost engine – nothing new there.
The Ford 1-litre EcoBoost engine is a three-cylinder petrol engine that is rated to put out 123 bhp of power and 170 Nm of torque using a turbocharger and lightweight materials. It is compact in size and yet has the power delivery equivalent to a conventional  4-cylinder 1.6 litre petrol engine. There wasn't any new information available on the kind of transmission this would finally be mated to. Also read: Ford EcoSport likely features and variants for India
Are you interested in a Ford EcoSport? Call a dealer near you. They just might take your cheque.