It's mid-February and if everything was as per plan with the Ford EcoSport, the vehicle would have been driving out of showrooms now. However, it looks like the vehicle will now only get an official launch in March.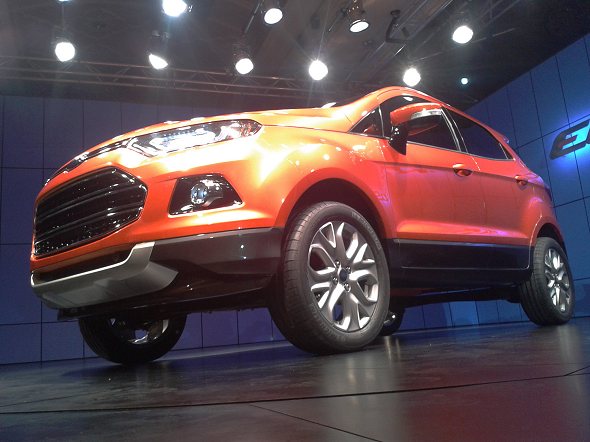 EcoSport trainers trained and ready
Meanwhile, about two weeks ago Ford conducted a training program for its trainers, who will in turn impart training to Ford dealers on the EcoSport. This event was held at Ford's factory in Chennai and going by Ford's company blog the event appears to have impressed the trainers quite a bit. Ford's communications team and EcoSport product manager Rusi Panda were part of the session.
The trainers got to drive four EcoSports on the test track at the plant and experience it, and apparently one of them was equipped with the 1-litre EcoBoost petrol engine, which impressed them the most. Also read: Upcoming Ford EcoSport likely features and variants
Additional features list
There were some titbits of information that trickled through on additional features that the Ford EcoSport is likely to come equipped with. One of them is an "econometer", which is a gauge quite similar to real-time instant fuel-economy displayed on multi-function displays that will constantly tell the driver how much mileage the EcoSport is giving.
Sync and voice commands are other features the trainers spoke about, which most are already aware the Ford EcoSport will come with. It apparently understands Indian accents quite well. Other small details include 60:40 split folding rear seats that help improve luggage carrying capacity, under-seat storage under the front seats, and keyless door and boot release. Also read: Ford EcoSport to feature Sync
The big question is when is the EcoSport going to be available? A dealer who has been taking EcoSport bookings in Delhi, and had told us that the vehicle would be available mid-July now says it may take two weeks more (the dealer is still taking advance bookings with an amount of Rs. 1 lakh). The dealer says they have already clocked over 300 bookings for the EcoSport at their dealership. If this is the same case with other Ford dealers around the country, one can just gauge the kind of demand the vehicle has. Also read:  Some dealers start taking bookings for EcoSport
Recently, there were unconfirmed reports as well that the Ford EcoSport base petrol variant may be priced below Rs. 6 lakh. Since the vehicle qualifies for small-car excise duty norms (being below 4-metres, with a 1-llitre petrol engine or 1.5 litre diesel engine), it could be possible. March is also a month when car sales usually spike as there are many who buy cars to claim depreciation benefits for tax purposes and Ford would do well to cash in on this rush. Come on Ford, it's time to launch the EcoSport!
Source: at.ford