Today, Ford India unveiled the EcoSport 5-seater concept SUV which is based on the global Fiesta sedan platform. The EcoSport is an urban SUV and will target compact sedan/front-wheel drive SUV buyers who want more styling and performance from a small car.
While Ford hasn't confirmed the India launch date, it says the production of the car will begin in six months.
Looks, comfort and space
The EcoSport looks handsome and wears its SUV badge rather well. There is fleeting similarity with Fiesta sedan from certain angles but EcoSport has an identity of its own that will appeal to those looking for smallish SUV. It has decent ground clearance—more than Scorpio.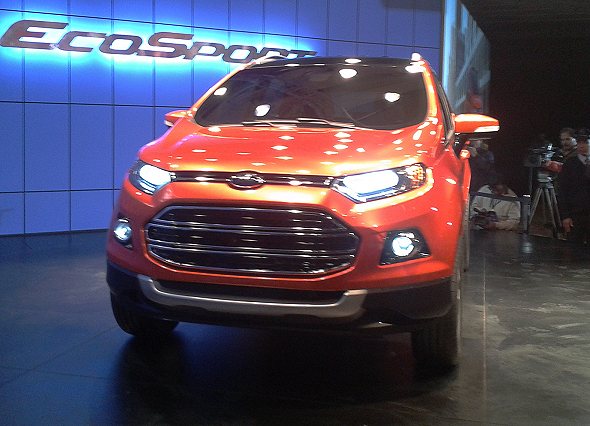 According to Ford, the EcoSport is right sized for customers and their needs—it should carry five adults comfortably and there seems to be decent space for luggage as well. So on the space front, it will match sedans such as Honda City.
Yet its compact dimensions will attract buyers who have shied from traditional SUVs because of their rather large footprints.
Performance and mileage
Ford will introduce its Eco Boost engines in India through the EcoSport. The EcoSport will be powered by a 1-litre, 3-cylinder, direct injected, turbo charged, EcoBoost petrol engine that makes 120 PS (118 bhp) of power and 170 Nm of torque. The highlight of the EcoBoost engine is that it produces power and torque that is comparable with a typical 1.6-litre motor. Despite the higher power output, the EcoBoost engine is low on emissions as it emits only 140 g/km of CO2.
Alternatively, Ford might launch it with the 1.5 liter, 89 bhp diesel engine that powers the Fiesta.
Value for money
Ford is yet to reveal the launch date and pricing of the EcoSport. Expect the EcoSport to be priced in the Rs. 7 lakh – 10 lakh range. When launched, the EcoSport will compete with the yet-to-be-launched Renault Duster and even sedans in the sub-Rs. 10 lakh range.
Conclusion
For now, EcoSport ticks all the boxes—it's compact and attractive and is powered by a fuel efficient engine. And one can safely assume the car will as loaded as the new Fiesta. Which leaves just one very important box to be ticked—the price: Can Ford deliver the car in the price range expected by the market?