The Ford EcoSport is really playing the value card right. Buyers of the Maruti Ertiga have been writing in to ask how the EcoSport compares with the Maruti Ertiga. And when you look at the specifications and features, other than on space and seating capacity which are unique propositions of the Maruti Ertiga, the Ford EcoSport does make for an interesting comparison with the Maruti Ertiga.
Wins on right price-value proposition
What's obviously tempting Maruti Ertiga buyers is the price at which the Ford EcoSport is being offered.  It is closely priced variant for variant with the Maruti Ertiga as well, especially when you look at the top-end variants. At the price point, the Ford EcoSport appears to have an edge in terms of comfort features, when you pitch it against the Maruti Ertiga. Also read: Ford EcoSport vs MUVs, SUVs, sedans and hatches
The top-end Titanium and Titanium Plus variants of the Ford EcoSport offer more features than the Maruti Ertiga, such as in number of airbags (in Plus), automatic climate control, Sync with Bluetooth, chilled glove box, extra 12V power sockets, etc. So if it's features you want, the EcoSport is better. Watch: Ford EcoSport VIDEO review
Loses out on space and seats
Of course, the unique selling proposition of the Maruti Ertiga is the space it offers and its seating capacity. The Maruti Ertiga would be a better choice for buyers who expect to carry more than four people at any point of time or more luggage as well. The Maruti Ertiga can seat five more comfortably than the Ford EcoSport can and can throw in two more at a pinch. Luggage space, with the last row folded is more than the Ford EcoSport as well. The EcoSport offers 346 litres of luggage space, while the Ertiga offers 480 litres of space with the last row folded. Also read: Ford EcoSport road test and review: Sure-shot winner!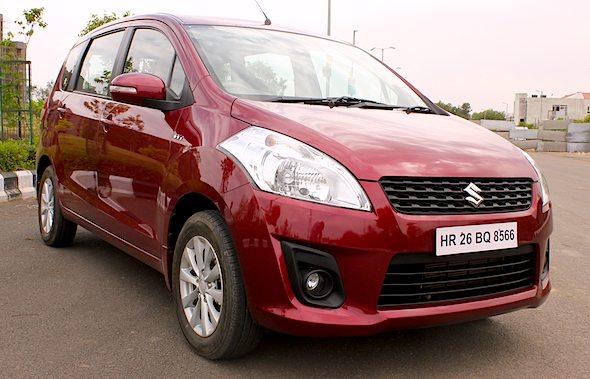 Wins on rough road package
The Ford EcoSport puts one up on the Maruti Ertiga when it comes to handling rough roads. It has larger wheels, much more ground clearance at 200 mm and has 550 mm of water wading capacity, making it quite competent on rough roads or flooded city streets. The Maruti Ertiga isn't much for bad roads – it would rather stick to paved city streets or the highway. For Features of Ford EcoSport read: Ford EcoSport variants and features, fully loaded! 
Wins on petrol power, matched on diesel
When it comes to power play, the Ford EcoSport petrol variants – the 1.5 petrol and the 1-litre EcoBoost outclass the Maruti Ertiga. The 1.5 petrol puts out 110 bhp of power while the 1-litre tiny three-cylinder EcoBoost (turbo-petrol) engine puts out a whopping 123 bhp of power, one of the best among all cars under Rs. 10 lakh! The diesel EcoSport and the Ertiga diesel have similar power outputs. Also watch: Maruti Ertiga video review
[table id=1050 /]
Buyers' dilemma
With a price point of Rs. 7.5 lakh to Rs. 8.3 lakh for petrol, the Ford EcoSport squarely targets the Maruti Ertiga ZXI, priced at Rs. 7.51 lakh. The diesel Ford EcoSport priced at Rs. 8.62 lakh to Rs. 8.99 lakh has the Maruti Ertiga ZDI, priced at Rs. 8.71 lakh covered. So for buyers who really don't want the extra seats in the Ertiga, and are swayed by the features of the EcoSport, it would make sense to pick up the Ford. But if you want space for five or more and a lot more versatile luggage space, the Ertiga is still a very practical choice. Also, Maruti's service network is still much larger than Ford's. Also see: Renault Duster vs Ford EcoSport video comparison
 Also read: Ford EcoSport vs Renault Duster features and specifications compared