Ford Figo Priced at 3,66,886 Lakhs for the Petrol LXI and 4,69643 for the Diesel LXI in Mumbai
Ford Figo Mumbai launch photo gallery
The New Ford Figo was today formally launched in Mumbai, prices for the Figo in Mumbai start from 3,66,886 for the 1.2 Petrol LXI and the Diesel variant is priced at Rs. 4.69,643 for the 1.4 LXI. Ford Figo's prices and Delhi launch
As we have already published most of the details about the Ford Figo yesterday, today we have a comprehensive photo gallery of the launch of the Ford Figo small car in Mumbai. Enjoy the photos on this page, or scroll all the way down for a full photo gallery of the Figo launch.
Our first impression is that the Figo is smaller in height and sits lower, compared to the Ford Fusion which has been discontinued.
Speaking to DWS, Mr Michael Boneham said that this is just the beginning and Ford India would be launching new models very frequently.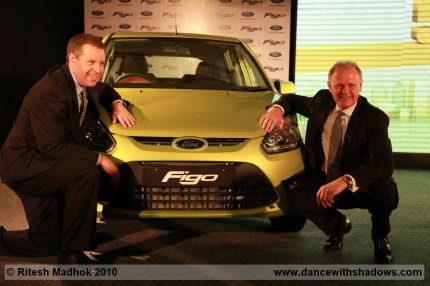 When asked if the Mustang would be sold in India Mr Boneham said as its just made in the left-hand drive version, it sadly cant make it to India. Incidentally, not many people know that Mr Boneham was the Plant manager at the Mustang plant in Detroit.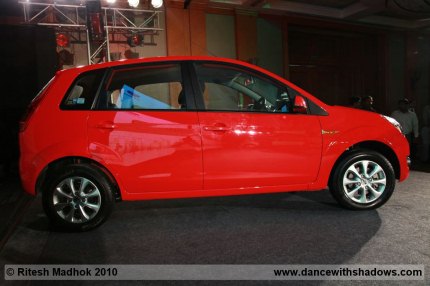 Please refer to our yesterday's story on the Ford Figo's Delhi launch. As said yesterday, the Figo is priced very attractively in the segment and has an upper hand due to its acclaimed 1.4 Duratorq Diesel engine that also does duty on the Fiesta and the Ikon. One major gripe for us: None of the variants of the Figo have power windows at the rear.
Figos styled on Fords Global Kinetic Design Elements and looks a very competent product. We at DWS are waiting to get our hands on the new Figo to get a detailed road test. So watch out for the Figo road test coming up soon.
And now, as usual, the full photo gallery of the Ford Figo's Mumbai launch!
[flickrslideshow acct_name="[email protected]″ id="72157623591346176″]