Ford prices the Figo very attractively at 3.49 lakhs for the base petrol and 4.48 lakhs for the base diesel.
Ford India has finally officially announced the prices for its newest hot hatch, the Ford Figo, at its Delhi launch today. Prices for the 1.2 liter petrol Figo start at 3.49 lakhs ex-showroom Delhi and 1.4 liter diesel at 4.48 lakhs ex-showroom Delhi. Update: Ford Figo road test
Pricing the Figo
The petrol models of the Ford Figo have the Duratec nomenclature which Ford customarily uses for its petrol variants, and the diesel models are called Duratorq, as usual.
You can scroll all the way down to see our recent stories on the Ford Figo.
The cheapest Ford Figo is priced at Rs 3.49 lakhs, just a little bit more than the Rs 3.34 lakhs of the recently launched Chevrolet Beat base variant. (Read Chevrolet Beat road test)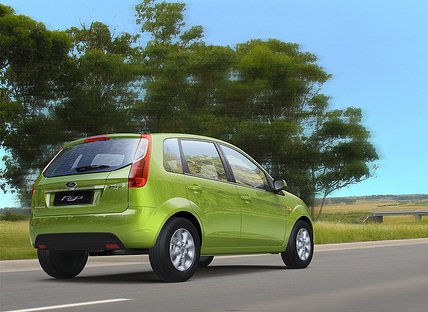 Ford Figo Duratec Petrol 1.2 Litre prices
LXI – Rs. 3,49,900
EXI – Rs. 3,81,900
ZXI – Rs. 3,99,900
Titanium – Rs. 4,42,900
Ford Figo Duratorq Diesel 1.4 Litre prices
LXI – Rs. 4,47,900
EXI – Rs. 4,72,900
ZXI – Rs. 4,96,900
Titanium – Rs. 5,29,900
If you remember, we at DWS had speculated upon Ford Figo prices a few days back – but the guys at Ford have got it still better and very competitive indeed.
The other players in this segment include the Maruti Suzuki Swift which leads in the number game and the Suzuki Ritz, Hyundai i10 which is priced similarly.
The top-end Ford Figo models (petrol one, priced Rs 4.43 lakhs and diesel one, priced Rs 5.29 lakhs) come pretty close and overlap the price of even Hyundai's premium hatchback i20 – whose base petrol models are priced at Rs 4.9 lakh (even though the diesel models cost around Rs 7 lakh).
The Tata Indica Vista, Fiat Punto, Volkswagen Polo, GM's Chevrolet Beat and Chevy U-VA, Skoda Fabia are some of the other small cars in India which might be threatened by some variant or other of the Ford Figo.
Ford had recently created a stir in the industry by opening 28 new showrooms and service centres across India just to gear up for the Figo. Attractively priced the Ford Figo holds the key to success for Ford in India. We at DWS would be covering the Mumbai launch of the Figo which happens tomorrow and meeting the Key officials from Ford to get and insight of Ford India's plans for the Figo.
Ford Figo's petrol and diesel engines and fuel efficiency
The new 1.2-litre petrol engine of the Ford Figo delivers 71.35 PS @ 6250 rpm and 102 Nm @ 4000 rpm.
Fuel efficiency claimed by Ford for the Figo's 1.2-litre engine is 15.6 kilometres per litre – very satisfactory for a car in this class.
The diesel Figo's 1.4-litre Duratorq diesel engine is has a claimed fuel efficiency of 20 kilometres per litre. Horsepower is rated at 69 PS @ 4000 rpm. Torque is equally impressive with 160Nm at 2000 rpm.
Colors
Diamond White
Chill (greyish light brown)
Colarado Red
Moondust Silver
Sea Grey
Squeeze (the green color you can see in the photos here)
What could be better
A little more power would be nice, we think. Remember that the Suzuki Swift has been around for a long time, and offered 85 bhp from the very beginning and still was extremely popular.
Car manufacturers obviously disagree with us there – they wold prefer to ensure that there are no complaints on the mileage / fuel efficiency front at all, and have kept the horsepower ratings to just adequate. Can't blame them, considering the competition in the small car market in India!