Goa has always been the tourist spot that most Indians plan to go. But constant ignorance of laws by the tourists and repeating the mistakes multiple times make the locals angry, especially when there is no police action. Here is a similar problem where foreign tourists were caught on camera while performing stunts on the famous Parra road in Goa. Locals have been demanding for police action ever since the pictures went viral.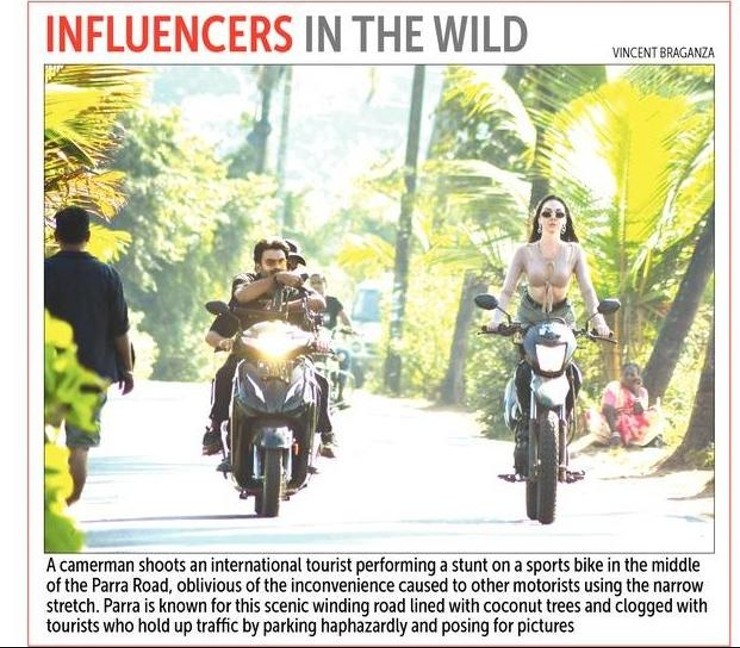 The famous Parra Road in Goa has always been in news after Bollywood's Dear Zindagi and a TV Series was shot on the location. Leading to St. Anne's church, the picturesque road offers a black topped road with palm trees lined on both the sides. Recently, foreigners on motorcycles were caught doing stunts on the same road. The picture by Herald Goa shows a cameraman on a bike following the foreigner on her bike and shooting a video.
Also read: Modified Royal Enfield Thunderbird 500 motorcycle from Eimor Customs look beautiful
Now locals have been asking for police action against the foreigners and have even demanded RTO to catch these stunters on the public roads. However, there is no official police action on the foreigners or even a statement from the law keepers.
Parra Road is a popular destination
Even thought you might find a picturesque road like the Parra Road in many other places in Goa, the mention of Parra road in every other blog about Goa makes it popular. Since it is a single lane road without any parking space or a physical divider, people flock to the Parra Road to get pictures and videos. It leads to a slowdown of traffic and causes a jam too.
Recently, the local village panchayat started charging Rs 1,000 from the tourists as garbage and entertainment tax. The panchayat hired several youths to carry out the tax collection too. The Parra Panchayat clarified that the individuals who are involved in shooting a video will have to pay the tax. The panchayat claims that to shoot, such people create a lot of garbage and traffic chaos in the area.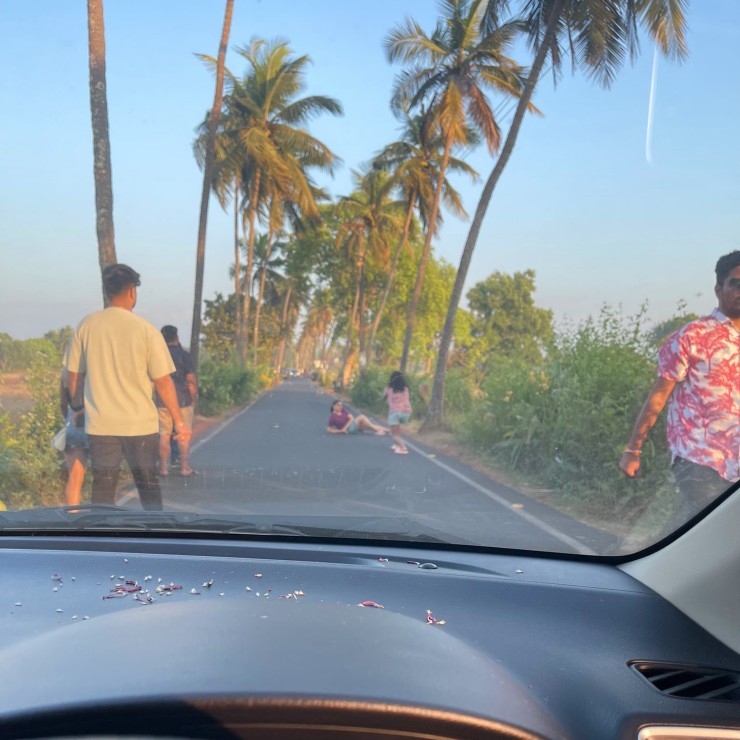 Since the locals face a lot of traffic jam in the area, they have been asking for police action for a long time. However, the locals remain divided on what they want exactly. While many of the locals are ready to ignore such things as Goa is a tourist destination and such things are bound to happen, many others feel that the tourists should pay extra attention to the laws. What do you think about it? Do let us know in the comments below.
Driving on the beaches
Goans for long have been complaining about the tourists who drive on the local beaches too. Taking vehicles on the Goan becahes is banned by law yet many out of state tourists do it regularly. In the past, the police arrested and seized the vehicles of many tourists but the trend has not changed.
Also read: BSA Motorcycles unveil Gold Star 650: Will Rival Royal Enfield 650 Twins