Mahindra (M&M) will launch the four-seater electric car REVA NXR by 2011. Currently, Mahindra-REVA offers only two-seater Reva in Delhi, Bangalore and Hyderabad. Pawan Goenka, M&M President for the Farm Equipment and Automotive division said that the company intends to take REVA to other cities in India and Mahindra REVA is also gearing up to roll out Reva NXR by next year.
Goenka however declined to comment on the price of REVA NXR by saying that it is too early to gauge the price of the car because there are various criteria that influence the price. He added that the government's incentives for electric vehicles will play a major role in for sales. Mahindra's plants are running at full capacity and hence there is a possibility for setting up a new factory in Southern India (Andhra Pradesh or Tamil Nadu are likely destinations.)  Mahindra will finalize the venue in the next three months.
Mahindra Reva  is one of the few companies to introduce electric vehicles worldwide. Founded in 1994 as the Reva Electric Car Company, a joint venture between the Maini Group of Bangalore and AEV LLC of USA, the company was acquired by M&M in May 2010. Mahindra Reva Electric Vehicles launched the Reva i in Hyderabad on November 4th, 2010. Reva i is a two seater city car and can travel up to 80 km on a single charge. It takes about 7 seconds to accelerate from zero to 40 kmph.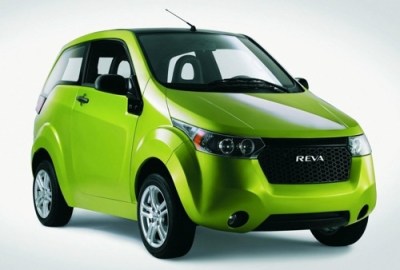 In September 2009, at the Frankfurt Auto Show, the company unveiled two futuristic-looking cars, the four-seater Reva NXR and the two-seater Reva NXG.
Reva NXR is a four-seat, three door electric car that will run on a Lithium Ion battery and will have top  speed of 104 kmph (65 mph) and a range of 160 kms (100 miles) on a single  charge, and a 15-minute fast-charge capability.  In India, the NXR would be made available as a lead acid battery variant with a range of 80 km per charge and maximum speed of 80 kmph. The car would need eight hours to be fully charged using a standard household outlet. The car will feature Reva's new REVive technology that acts like an invisible reserve fuel tank, if the drivers run out of charge.
As we reported earlier that Indian government has decided to offer 20 percent rebate on the ex-factory price of electric vehicles. If Mahindra prices Reva NXR at about Rs. 5 lakhs*, the government rebate will bring down price to Rs. 4 lakhs. But that's in realm of speculation. Lets get Reva NXR prices first. Stay tuned!