Honda will launch its small car Brio in September 2011 with an expected price of less than Rs. 5 lakh. To strengthen the sales and service network in smaller cities and increase the Brio's presence across India, Honda will tie up with state-run regional banks to provide attractive finance schemes.
This will help boost the sales of the small car which is meant for larger audiences. Honda India Vice-President, Jnaneshwar Sen told the media that Honda in India is not exactly focusing on the major metros with Brio; it will cater to urban nuclear families, but will meet specific needs of larger family units in small towns.
On November 30, 2010, Honda unveiled the near-production version of its small car Brio at the 27th International Motor Expo 2010 in Thailand. The car is very compact and measures 3.6 m in length, 1.68 m in width and 1.475 m in height, but Honda has made maximum use of cabin space and done some intelligent packaging, just like the concept car that was seen earlier this year.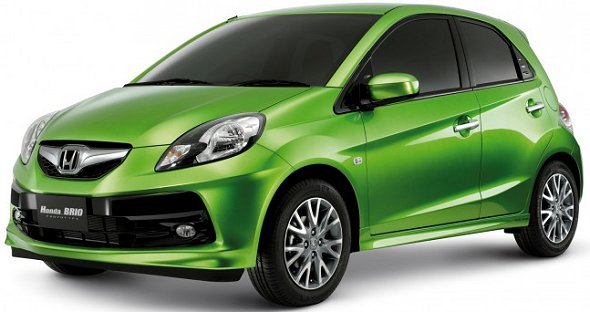 The Japanese car maker has retained the same styling of the Honda Brio as it showed at the 2010 Delhi Auto Expo, where it was called the City car. However, Honda has unveiled a funky bright fluorescent green Brio with 4 doors in Thailand (unlike the grey silver concept car with 2 doors). The front grille has a squashed Honda Civic type grille and the large air dam located in the front bumper masks this car's small size.
The Brio's seats have integrated head rests and the interiors have a mild two tone color (all beige though), but we expect Honda to provide a deeper shade variant for the Indian market. The seats are flat, height adjustable and the rear seat has fewer contours so as to accommodate three people comfortably.
The Honda Brio will be powered by a 1.2 litre petrol engine. The car seems quite light in weight and hence one can expect good fuel efficiency and decent performance. The engine is mated to a manual gear box and as per Thailand mileage standards Honda claims a fuel efficiency of 20 kmpl. But we have to wait till Honda announces the precise engine specifications and further details of Brio.
Honda Brio will have to face stiff competition from the Maruti Suzuki Swift, Hyundai i20, Volkswagen Polo and Toyota Etios Liva (to be launched in April 2011). Let's take a look at how the Honda Brio stacks up against other hatches in its class.
Honda Brio vs everybody else: Quick look
Model                  Engine                            Dimension                                                      Price
Honda Brio     1.2 litre petrol       3610 mm X 1680 mm X 1475 mm                  Less than Rs. 5 lakhs*
Etios Liva       1.2 litre petrol         3775 mm X 1695 mm X 1490 mm                 Less than Rs. 5 lakhs*
Maruti Swift   1.2 litre petrol         3760 mm X 1690 mm X 1530 mm               Rs. 4.05 – 5.45 lakhs*
Hyundai i20   1.2 litre petrol         3940 mm X 1710 mm X 1505 mm               Rs. 4.50 – 7.60 lakhs*
VW Polo          1.2 litre petrol         3970 mm X 1682 mm X 1453 mm               Rs. 4.40 – 6.20 lakhs*