Updates: Research the Honda Brio small car! You can also check out our full road test of the Honda Brio, or see a video review. Recently, Honda launched an automatic variant of the Brio. You can also read about the upcoming Brio diesel sedan.
Honda Siel Cars India (HSCI) will launch the Brio small car in October 2011 as had been scheduled earlier. There were speculations that the Brio launch would be pushed further away owing to supply constraint post the natural calamities in Japan.
Honda Brio is a compact car that will mark HSCI's entry into the mass car market in India. With an expected price of Rs. 5 lakh, the Brio will have 80% localization and will be manufactured at HSCI's Greater Noida facility in Uttar Pradesh.
Honda Brio was first launched in Thailand a couple of months ago with prices ranging from Rs. 5.96 lakh – Rs. 7.58 lakh (399,000 – 508,000 Thai Baht).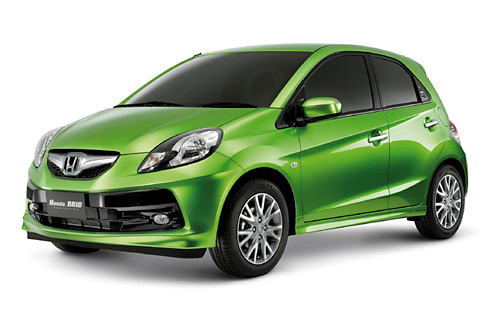 The Brio measures 3.6 m in length, 1.68 m in width and 1.475 m in height. The Brio is powered by a 1.2 litre i-VTEC petrol engine (Euro IV compliant) that develops 90 hp of maximum power. The fuel economy of the Brio, Honda claims is as 20 km/litre.
Apart from the Brio, Honda also plans to launch a small car to be positioned below Brio in India. The two small cars will be volume drivers for the company and will help HSCI recover from losses due to the declining sales of Honda cars such as the City, Civic and Jazz.
HSCI will increase its car production gradually by August and resume full production by the festive season. Japanese auto makers Honda and Toyota were affected by short supply of auto components after tsunami and earthquake in March 2011 affected the production of component manufacturers in Japan. Also read: 2011 Honda Brio photo gallery
Following which, in April 2011, HSCI announced a cut in the production of its Greater Noida plant; the cut will be roughly 50% and will be applicable May 2011 onwards. Now, since component supply from Honda's parent plant in Japan is recovering, HSCI will resume full production within the next 5 months period. Since the beginning of May 2011, HSCI has been working only in single shifts.
"The parts supply is now expected to increase gradually and production volume will be increased starting August 2011 with the expectation that HSCI will begin operating on normal production from the festival season," HSCI said in a statement as per PTI.
Further, the company's statements mention that Honda Motor is exerting a company wide effort to normalise its production as soon as possible. HSCI's first plant at Greater Noida, manufactures 5,000 units every month during normal production.
Many critical components for its cars such as engines and electronics are imported from its parent (Honda Motor Corporation) in Japan. The company's second facility at Tapukara, in Rajasthan, which can produce 60,000 units per annum, has not yet started its operations.
Earlier, CarToq had reported that Honda is expanding its sales network to India's tier-II and tier-III cities to reach a wider audience ahead of the Brio's launch this festive season. HSCI currently has 125 sales centres in 77 cities across India. Also read: Honda Expand network in tier-ii and tier-iii cities
The company has planned to open 25 more outlets across the country in the next 12 months. HSCI officials have told that nearly 50% of its car sales come from top-eight cities such as Kolkata, Hyderabad, Delhi and Mumbai.
Establishing a strong distribution network will help Honda leverage on the untapped semi-urban and rural car market in India as well as help sell more volumes of its upcoming small cars such as the Brio.