The Japanese automotive giant, after being quiet for a long time, has finally unveiled its newest mid-size SUV, the Elevate, in India. This all-new SUV will go head-to-head with segment champions such as the Hyundai Creta, Kia Seltos, Maruti Suzuki Grand Vitara, and many others. While the company is yet to launch the Elevate in India and real-life driving of this SUV is yet to happen, the company recently shared its new TVC featuring the SUV being tested in real-life situations, along with discussions about its design and engineering.
The video of the Honda Elevate in action has been shared on Honda Cars India's YouTube channel. The video begins with the background story of how the Honda Elevate came to be. It reveals that although the Honda Elevate is a global model, it has been designed with India in mind. It states that the car has been carefully engineered to suit the preferences of both young and old Indian buyers. It further adds that the idea for the Elevate was incubated during the pandemic, driven by the need for freedom. Check out our Honda Elevate Knowledge Hub
Also read: 10 DC Design cars & how they look in the REAL world: Maruti Swift to Mahindra XUV500
Following this, the presenter in the video discusses the design philosophy behind the Honda Elevate. He mentions that the exterior design of the Honda Elevate has been sculpted with the demands of the young generation in mind. He explains that the Honda Elevate was designed to have perfect proportions and a strong road presence. The presenter states that the Elevate offers a more muscular stance and styling with sharp body lines and features. Additionally, he highlights that the front of the SUV has been designed to be bold, and the high belt line adds strength to its appearance and passenger safety.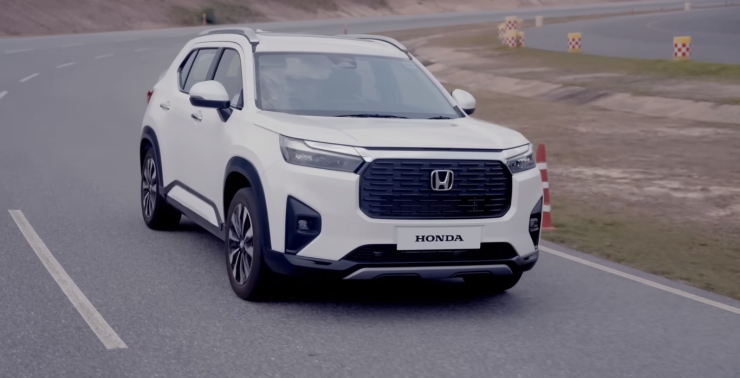 Next, the presenter delves into the story behind the interior of the SUV. He notes that the interior has also been crafted while considering the demands of Indian customers. He emphasizes that the interior is exceptionally roomy, providing ample leg room, knee room, and a comfortable seating posture. Furthermore, he mentions that the colors and materials for the interior have been carefully chosen to enhance the style and class of the vehicle.
Moving on, the presenter discusses the driving dynamics of the Honda Elevate. He states that the SUV's driving dynamics have been tuned to suit Indian roads and driving styles. He also highlights that the car comes equipped with Honda Sensing, which is an added bonus. Currently, the Honda Elevate is available with a single petrol powertrain: a 1.5-liter four-cylinder naturally-aspirated engine shared with the Honda City. This engine delivers a maximum power output of 121 bhp and a peak torque output of 145 Nm. Buyers have the option to choose between a 6-speed manual transmission or a CVT.
Also read: Upcoming 2022 Maruti Suzuki Vitara Brezza rendered