Its all in the software – not hardware or motor – seems to be what Honda and Sony are saying.
Sony, the Japanese electronics and media conglomerate, has emerged as the tech giant that might have figured out how to make the rubber meet the road with their new brand "Afeela". The company has partnered with Honda to produce a new electric vehicle (EV) from 2026 onward, which will more than likely be built at Honda's facilities in the US to take advantage of new EV tax credit rules.
Also read: 10 DC Design cars & how they look in the REAL world: Maruti Swift to Mahindra XUV500
Under the brand Afeela, the joint venture, called Sony Honda Mobility, will lean heavily into subscription features and Sony's own vast library of video games and media properties for in-car entertainment. These services will be engaged while drivers and passengers are waiting for the EV to charge or when autonomous car features are deployed. The venture's CEO, Yasuhide Mizuno, has said that it is aiming for lease deals for up to 10 years, which is much longer than most cars are owned today, and this will be backed up by frequent over-the-air software updates and feature additions.
If all that sounds more like an entertainment product or appliance than a car as we know it, you are not alone. But when Honda and Sony – two behemoths – put their weight behind something new, we might be looking at an actual change in how cars are going to be built and used.
The latest prototype is a sleek EV sedan, with screens across the width of the dashboard, 45 sensors and cameras for semi-autonomous driving assistance, all-wheel drive, and hints at augmented reality integration and "virtual worlds" embedded into the driving experience.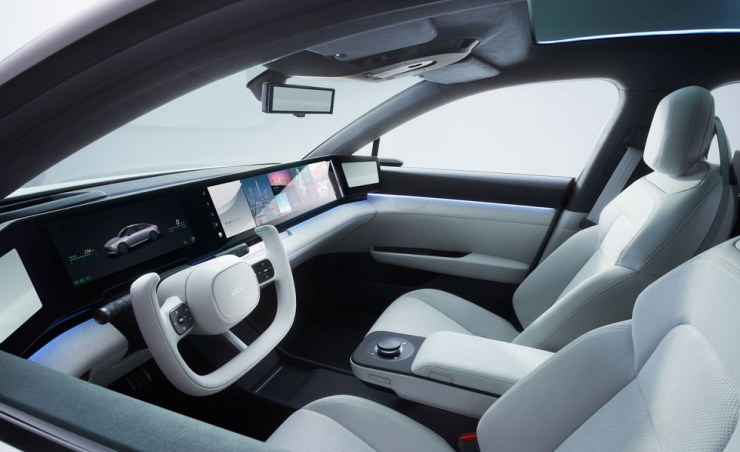 This is Sony's first foray into the automotive sector and it already appears designed to compete with some of the top players in the luxury EV space.
Sony Honda Mobility COO, Izumi Kawanishi, has said that the important thing is software and that the company wants to change its business from hardware to software. With Honda's manufacturing expertise, this could represent a whole new market and multiple streams of revenue for Sony, which already has a massive foothold in entertainment media and the devices we use to consume it.
The Afeela name has been mocked on social media after its CES debut earlier this month. However, this joint venture faces plenty of challenges over the next three years as the EV market grows at a rapid pace. Afeela signals a kind of grpwing up in the EV market, with serious, real-deal companies jumping in to own the digitized future of cars defined by subscription services, data, and software-driven features.
Also read: Upcoming 2022 Maruti Suzuki Vitara Brezza rendered