If you love music, we are sure that you would have heard the name, Honey Singh. He was one of the first rappers to come from India. He had done several popular albums during the peak of his career. He took a break from the industry for some years and he is now back with a new album. During the promotion of his new album, the singer and rapper mentioned the amount he paid for the number plate on one of his vehicles. Honey Singh mentioned that he paid Rs 28 lakh for fancy number plate on his Audi R8 supercar.
The video has been shared by Mashable India on their YouTube channel. Like any other singer, actor or producer from Bollywood, Honey Singh or Yo Yo Honey Singh as his fans like to call him also had a love for expensive and exotic cars. He owned cars like Audi Q5, Q7, Jaguar XF and many more cars in his garage however one of the expensive cars in his garage was an Audi R8. Audi does not produce Audi R8s anymore but, when it was available in the market, it was considered as one of the practical supercars to live with. It came with 160 mm ground clearance and it even had storage compartments in front and behind the seats. The R8 served as the halo car from Audi for a long time in India and it was finally pulled out from the Indian car market in 2019. The last recorded price of Audi R8 in India was around Rs 2.30 crore, ex-showroom.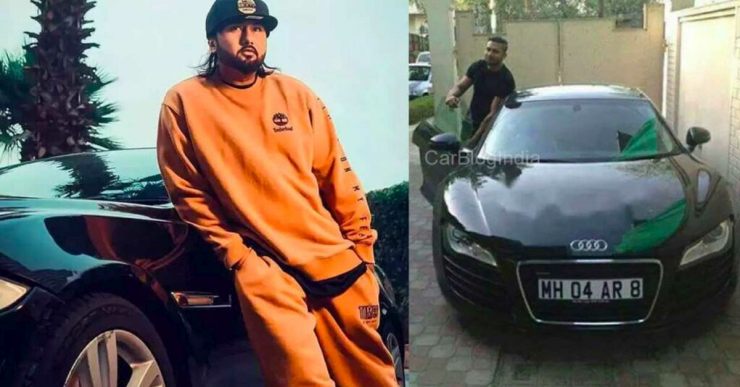 Also read: 10 DC Design cars & how they look in the REAL world: Maruti Swift to Mahindra XUV500
Honey Singh had this car in his garage for a while and in the interview, he said to the anchor that he was once very fond of buying expensive cars and SUVs and has now lost interest in them. He was so obsessed with the number plate of his Audi R8 that he paid around Rs 28 lakh for the fancy number. His Audi R8 had the registration number MH 04 AR 8. He said that he bought the number plate from Maharashtra because the number was R8. The singer also mentioned that he has now sold almost all the cars in his collection during his prolonged illness. He also mentioned that he does not enjoy driving anymore and that is the reason why he does not do it.
The singer recently launched a new single Yai Re. It is actually a remix version of the popular 90s hit track. As mentioned above, the popular singer and rapper had taken a break from the industry after he was diagnosed with symptoms of bipolar disorder. Bipolar disorder, formerly called manic depression, is a mental health condition that causes extreme mood swings that include emotional highs (mania or hypomania) and lows (depression). Honey Singh took a break of 5 years to treat his mental health condition. Former Indian cricket team captain Virat Kohli also owned an Audi R8 in his garage. He also sold his Audi R8 and the car was seen rotting in a remote part of Maharashtra.
Also read: Upcoming 2022 Maruti Suzuki Vitara Brezza rendered