The compact sedan segment of cars priced between Rs. 4-Rs. 7 lakh did not see all that much action on deal front.
Mahindra made no concessions on Verito. Toyota refused to push Etios with discounts. Nissan Sunny has just been launched at a very tempting price so expecting deals on that is a bit unreasonable. And Maruti is facing productions constraints due to strike at its Manesar plant and therefore perhaps felt no need to push Swift Dzire with any offers. And Ford seems contended with monthly sales of 1,500 Fiesta Classics.
That left just two carmakers in the ring—at least when it comes to deals:
Discounts of Rs. 45,000 on Tata Manza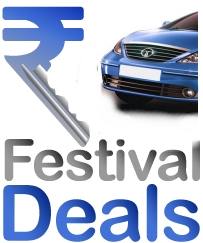 The base Manza Aqua gets a hefty discount of Rs. 45,000 bringing down its price from Rs. 5.39 lakh to Rs. 4.94 lakh. This puts it on par with Maruti Swift Dzire priced at Rs. 4.94 lakh. Both are very lightly spec-ed but Manza enjoys a slight advantage here too with two power windows that Dzire shuns.
The mid-range Aura gets Rs. 35,000 off so it can now be had for Rs. 5.39 lakh. The similarly spec-ed Dzire costs Rs. 4.57 lakh.
The fully-loaded top-end petrol version Elan Safire gets a discount of Rs. 33,000 bringing down its price from Rs. 6.83 lakh to Rs. 6.50 lakh. This brings it closer to segment leader Maruti Suzuki's Swift Dzire (Zxi) priced at Rs. 6.39 lakh. Both are similarly loaded. But Manza is a bigger, more comfortable car.
The other car that equals Manza on comfort, Toyota Etios's top end model loses out badly as it's a good Rs. 47,000 dearer at Rs. 6.97 lakh.
And finally, the reduction gives Manza a decent price edge over the new entrant and probably the most spacious car in the segment, the Nissan Sunny XL that costs Rs. 6.88 lakh.
In short, the top-end Manza is a pretty good buy at the moment. The bottom one is even better—it is, for now, the cheapest sedan (sans Indigo) you can buy in the country.
Discounts of Rs. 50,000 on Aveo
Chevrolet Aveo gets Rs. 50,000 off on all models but again, its sales numbers at 121 units are a bit disappointing in category where brand image also matters.
Conclusion
It's easy with most major automakers not offering any deals its Tata Manza all the way.