October has seen some really big discounts on sedans priced between Rs. 7-Rs. 10 lakh. Honda City, Fiat Linea T-Jet and Ford Fiesta look like good buys this Diwali. Read on for details.
That would suggest it's probably the best time to buy a sedan. But it's a little more complicated than that. Amongst the top three sellers (Hyundai Verna, Honda City and Volkswagen Vento), only City came with a discount. That too was till October 5.
Let's take a look at offers first:
Linea T-Jet, Honda City and Fiesta deals

First salvo came from Fiat which discounted the top-end Linea T-Jet Plus by a whopping Rs. 75,000 bringing down its ex-showroom price (Delhi) from Rs. 9.06 lakh to Rs. 8.31 lakh. Add benefits such as insurance at Re. 1, free roadside maintenance etc, and the offers runs up to Rs. 1.3 lakh.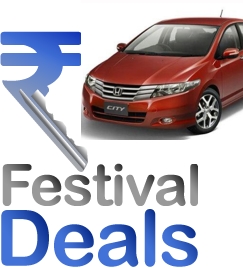 Honda responded with a Rs. 70,000 discount on Honda City VMT which costs Rs. 8.64 lakh bringing down its price to Rs. 7.94 lakh.
By the middle of the month, Ford too jumped in the fray with Rs. 50,000 off on its new Fiesta 1.5P Titanium bringing down its price from Rs. 9.42 to Rs. 8.92 lakh.
The new Hyundai Verna which has been competing with Honda City for top spot in sales since its launch in May refrained from offering any discounts—it's currently struggling to meet demand. Its top end petrol variant Verna SX (O) is priced at 8.99 lakh.
Volkswagen Vento too kept its top end variant Vento Highline priced at Rs. 8.23 out of the deal frenzy.
All the models are similarly spec-ed so there isn't much to choose between them on feature/price dimension.
Conclusion
Only Fiat and Ford deals continue to run. Linea discount is indeed impressive. It makes it a good Rs. 60,000 cheaper than Fiesta (after factoring Fiesta discount). But its sales numbers are a worry: 140, 113 and 175, respectively in the last three months.
Though Fiesta hasn't sent the sales charts on fire, it's doing much better with around 600 every month. Besides, Ford's other car Figo is selling an impressive 5,000 plus units a month and even the old Fiesta Classic is doing 1,500 a month making Ford a strong player in the market.
But Fiesta , even after discount, costs more than the top-three sellers, Verna, City and Vento. So the deal helps only those who want to buy the Fiesta anyway.
So, yes, there are deals on offer but all of them come with a catch. If we had to pick one, it would be Fiesta—just because Ford is on a more sound footing than Linea.