Mahindra's XUV500 has chalked up bookings of over 6,000 vehicles in just two days after launch, and that too from just five metros. The excellent response to Mahindra's new SUV is obviously because of its attractive invitational prices starting at Rs. 10.8 lakh for an SUV that offers lot of features. Will Mahindra increase the price soon, given the high demand for the XUV500?
In fact, the Rs. 11.97 lakh W8 front-wheel drive variant and the Rs. 12.88 lakh W8 all-wheel drive variant seem even more value for money considering that they offer features that vehicles nearly twice their price also do not offer.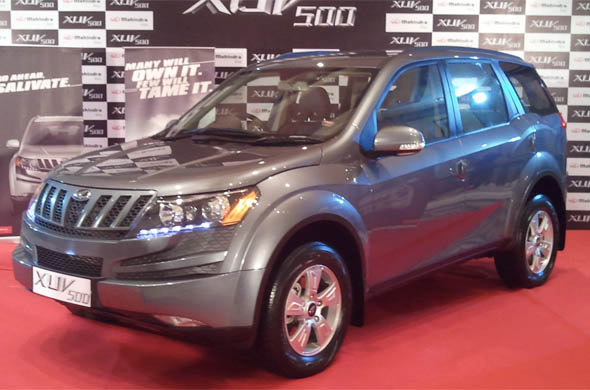 During the launch of the XUV500 in Delhi, we asked Rajesh Jejurikar, CEO of Mahindra's Automotive division. He said that prices would hold for at least three months, but refused to commit to that timeframe saying that it depended on the market response. Also read: Mahindra's XUV 500 bags 6,000 bookings in two days
Now it's simple economics of demand and supply. With such high demand for the XUV, Mahindra can easily afford to raise prices sooner to pare demand a little. And they just might, but the question is by how much?
Another Mahindra official we spoke to, but did not want to be quoted, said that even if prices were to go up, it would be by about Rs. 10,000 to Rs. 15,000 only initially, which still makes the XUV great value for money.
But over a period of time the prices might rise more significantly. A clue to how Mahindra's marketing strategy with new launches works can be seen in the way the Mahindra Scorpio has become so popular. Also see: Mahindra XUV500 photo gallery
The Scorpio, when launched in June 2002, was priced at Rs. 5.82 lakh for the base variant, while the version above it was priced at Rs. 6.35 lakh. It also had a fully-loaded petrol variant priced at Rs. 7.19 lakh that hardly sold any numbers, while the diesels were a runaway hit.
The reason was the Scorpio was nearly Rs. 1 lakh cheaper than its main rival the Tata Safari at that time and offered more power than the Safari (Safari put out 90 bhp from its 2-litre diesel, while Scorpio's 2.6 litre put out 109 bhp). Also see: Mahindra XUV500 vs Toyota Innova
This time around, Mahindra seems to be running a similar game plan, with the base XUV500 about Rs. 80,000 cheaper than the base Tata Aria and offering a few more features than the Aria. With the Scorpio, Mahindra's first price increase came a year later after a few modifications to the vehicle – the initial Scorpios had very noisy engines, which the 2003 version improved upon.
Prices went up by Rs. 50,000. In 2006, the price of the base version of the Scorpio had crept up to Rs. 6.9 lakh, and today, the base variant – the Scorpio EX is priced at Rs. 7.59 lakh ex-showroom Delhi.
But given the heady demand for cars today and the level of competition in the market, there are two things Mahindra can't afford to do. The company can't afford to wait for a year to fix any problems that emerge in the XUV (though M&M claims to have done nearly 2.3 million Km of testing with 250 prototypes over the past four years). Read more about how the XUV stacks up against its competition here.
It will have to identify and proactively fix any issues reported with the XUV in the first three months itself, if it wants to maintain this level of demand for the vehicle. And two, it can't afford to wait that long to hike prices either, given the high cost of raw material and number of features the vehicle carries – at some point it's bound to hit M&M's bottomline.
The invitational price of Rs. 10.8 lakh is definitely attractive and customers who want to save some cash should go ahead and book now.
Keep in mind that with over 6,000 bookings coming in, the waiting period for an XUV can stretch to three months as the company can produce about 2,000 vehicles a month. So even if you were to book now, the earliest you will get the delivery is three months from now.
You might then want to wait for the next three months and see if there any initial niggles with the SUV. Whether that is worth the additional Rs 15,000 to pay later is a decision based on your needs. What is your view?