In India, almost everyone who buys a vehicle takes their vehicle to a religious place to do a puja. This is mostly done to bless their new vehicles and avoid any mishaps and accidents in future. We have seen people do such pujas on their cars and two-wheelers. However, a Hyderabad-based businessman took things to the next level. He took his newly bought Airbus ACH-135 helicopter to a temple to perform rituals. This is probably the first time, we have come across such an act.
Boinpally Srinivas Rao, the proprietor of the Prathima business, bought an Airbus ACH 135 and used it for the "Vahan" puja at the Yadadri temple dedicated to Sri Lakshmi Narasimha Swamy. Costing $5.7M, the opulent helicopter. #Telangana pic.twitter.com/igFHMlEKiY

— Mohd Lateef Babla (@lateefbabla) December 15, 2022
The images of the businessman from Hyderabad was shared on Twitter. The Twitter post shared by an ABP News journalist, quoted, "Richie Rich of Hyderabad. Prathima group owner Boinpally Srinivas Rao purchased Airbus ACH 135 and took it to Sri Lakshmi Narasimha Swamy temple in Yadadri for the 'Vahan' pooja. The luxury helicopter has a price tag of $5.7M.#Telangana"
Also read: Mahindra XUV900 Coupe: New Details Surface
The video that is available online has already got close to 1,500 views and in this video, businessman Boinpally Srinivas Rao is seen performing the Vahan puja at the temple. The priest of temple can be seen along with him in this video. As per reports, the former governor of Maharashtra Vidyasagar Rao, a relative of Srinivas Rao, was also present at the temple during the puja. Once they were done with the rituals, they took the helicopter for a ride across the city.
Coming to the helicopter, the Airbus ACH-135 helicopter is one of the best twin-engine light rotorcraft helicopters currently available in the world. Airbus has delivered more than 1,350 units of this helicopters to more than 300 buyers across 60 countries. In terms of dimensions, the Airbus ACH-135 has a main rotor diameter of 34.1 feet. It is 40.2 feet long and 12.8 feet tall. The cabin can be configured up in a variety of styles and can accommodate one or two pilots and up to six guests. This model is also used by emergency services as it has enough space to accommodate two pilots and other necessary equipment including a stretcher and two more personnel for such medical emergencies.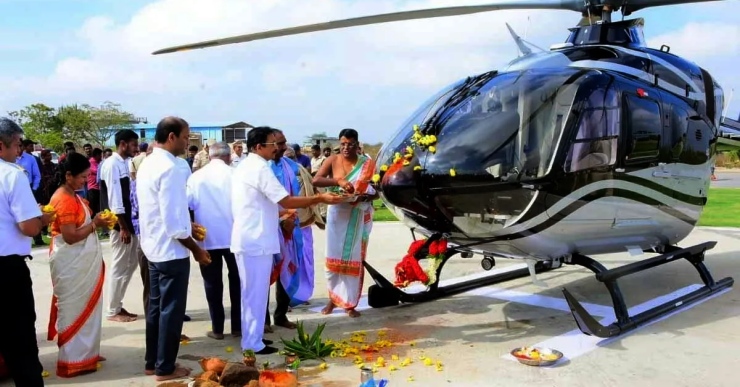 The Airbus ACH-135 is one of the most sought-after helicopters in the world. The cutting-edge flight deck is equipped with the Airbus Helionix avionics suite and a four-axis autopilot. The shrouded Fenestron tail rotor greatly reduces total noise. The H-135 gets two engine options. There is a Safran Arrius 2B2 Plus and a Pratt & Whitney PW206B3. Both these engine have shaft horsepower ratings in the 500–700 hp range. With a full load of fuel, the H135 can go 342 nautical miles at a top speed of 140 knots. The top-of-the line helicopter can carry a load of up to 1,417 kg and the maximum takeoff weight is 2,980 kg and The helicopter can hover to ceiling at around 7,200 feet.
This is probably the first time, we have seen a businessman take a helicopter out for a ritual in India. Last year, a video had surfaced online where a brand new Lamborghini Huracan sports car was getting the rituals done in Bengaluru, Karnataka on the roadside. No matter how expensive or cheap your vehicle is, almost every person who buys a vehicle does this. We have even seen Bollywood celebrities like Karan Johar and Kartik Aaryan perform similar poojas for their vehicles.
Also read: 10 DC Design cars & how they look in the REAL world: Maruti Swift to Mahindra XUV500