Hyundai spent little time in responding to festive offers from its arch-rival Maruti Suzuki India Limited. It has just announced cash discounts and other deals on Santro, i10, i20, Accent and Sonata. The offers are valid till October 31.
Only i10 discounts are substantial—the rest have a 'token' feel to them.
Deals on i10
The best deals are on non-metallic shades of i10. There is cash discount of Rs. 23,525 on the Rs. 3.87 lakh Era bringing down its price to Rs. 3.64—that's puts it in the same price band as Wagon R Lxi which costs Rs. 3.65 lakh. Both are similarly spec-ed.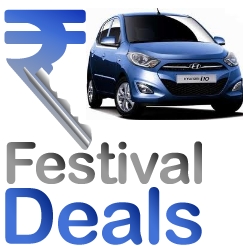 The 1.1 Magna gets a discount of Rs. 23,039 leading to price reduction from Rs. 4.02 lakh to 3.79 lakh making it Rs. 11,000 cheaper than Wagon R Vxi priced at Rs. 3.90 lakh. But i10 Magna does not have a music system or, more importantly airbags—Wagon R Vxi has two of them. So Rs. 11,000 savings might not be worth that much.
The 1.2 Magna and 1.2 Sports get a cash discount of Rs. 25,000 each so they can now be bought for Rs. 3.96 lakh and Rs. 4.54 lakh, respectively. Both have the modern Kappa engine that churns out 79 BHP—the 1.1 Era and 1.1 Magna have the older 67 BHP engine. So if you are looking for power, these two variants are a good alternative to Wagon R/A-Star/Estilo models from Maruti which have sub-70 BHP power output. Also read: Maruti Suzuki deals this October
However, if you are on the market for power, then Ritz Lxi and Ritz Vxi, both of which are powered by the 84-BHP K-Series engine, can be had for Rs. 4.02 lakh, and Rs. 4.65 lakh, respectively. So there isn't much too choose between 1.2 versions of i10 from Hyundai and Maruti Ritz based on prices.
Metallic shades of i10 get a cash discount of 5,000 and free insurance worth Rs, 13,000. Considering the fact that negotiating insurance cost waiver in the category is not such a big deal, the discount doesn't add up to much. Also see: Honda discounts up to Rs 70,000
In short, if you are the sort who always wanted an i10, then the discounts are helpful. On the other hand, if the relative price is what determines your choice, then you'd find Hyundai hasn't really gone far enough.
Deals on other models
Hyundai Santro gets first year insurance waiver plus Rs. 5,000 cash discount while Accent comes with a Rs. 6,000 cash discount. Buy i20 petrol and you'll get 200 liters of the fuel free (worth Rs. 13,500) and if you opt for Sonata, you won't have to pay first year's insurance worth Rs. 50,000.
Conclusion
What Hyundai seem to being doing is reducing the price gap between i10 and competing models from Maruti to ensure that price is not a barrier to i10 purchase. But it won't discount it beyond a point to retain its premium billing.
The half-hearted discounts on i20 are a surprise considering its sales are down from an average of around 7,500 per month between February 2011-June 2011 to about 5,500 in July-2011-August 2011. It's facing stiff competition from all sides—the newly-launched Swift, the aggressively priced Ford Figo and now the much-cheaper-than-earlier Honda Jazz.
Might be worth a wait to see if Hyundai relents on its premium pricing—after all Honda has fallen in line.
The limited discounts on Santro, Accent and Sonata are understandable—Hyundai is launching Santro competitor Eon and there is so much that can be done with more-than-a-decade old Accent whose sales have hit a low of 794 in August 2011, down 20 percent from the average of 1,000-plus in the first six months of the year. And Sonata too sells in very small numbers.
So Hyundai hasn't gone all that far in lighting up your festive season…but who knows…the market might make them do otherwise. What do you think?