The September dip in car sales has  made sure that car makers have some serious targets to chase—and that means they must pull out their best deals. That's what Hyundai has done.
Deep discounts on Hyundai i10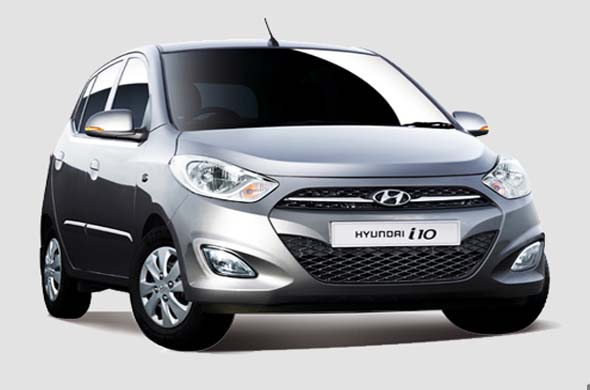 Hyundai i10 starts at an ex-showroom price of Rs. 3.65 lakh which goes all the way up to Rs. 6.11 lakh. This means it would cost around Rs. 4.0 lakh on road for the base version. Sunrise Auto, Delhi, is offering a substantial cash discount of Rs. 25,000 across the model range, bringing down the price of base D-lite model Rs. 3.4 lakh. And if your company is on Hyundai's corporate customer's list, then you get additional discounts of Rs. 25,000.
A Rs. 50,000 discount on a car costing Rs. 3.65 lakh is pretty substantial—that puts it well below the entry level WagonR Lxi priced at Rs. 3.50 lakh. The effective showroom price of Magna 1.2l Kappa after discount comes to about Rs. 3.82 lakh which is a good Rs. 24,000 less than similarly spec-ed WagonR Vxi.
In short, now is the good time to buy i10.
Good discounts on Santro Xing too but i10 makes more sense
The one-time best-seller Santro Xing GL Plus and GLS costing Rs. 3.58 lakh and Rs. 3.80 lakh, too gets attractive discounts: insurance waiver (Rs. 11,275), plus Rs. 11,000 in cash discount which could swell to Rs. 14,000 if you can wrangle the corporate discount of Rs. 3,000 too. This helps bring down the on road price by Rs. 25,000. However, while the discount is significant, the i10 discounts somewhat nullify their attractiveness. The baseline i10, after discounts will cost Rs. 3.15 lakh while GL Plus will cost Rs. 3.33. The only additional feature Xing has is power windows but that can be added at the cost of Rs. 5,000. Besides, i10 is a much better—modern—car.
Not-so-significant discounts on Hyundai i20
Hyundai is waiving of insurance on i20 plus offering Rs. 20,000 as exchange bonus on its petrol variant. The value of insurance waivers ranges from Rs. 14,500 to Rs. 22,090. But the Hyundai i20 is priced at a 5showroom while the price of similarly spec-ed Swift Vxi is Rs. 4.93 lakh. A Rs. 15,000 insurance waiver narrows the gap but does not bring i20 prices on par with Swift.
So purely from a deal point of, the discount is helpful but not a clincher.
Hyundai Eon deals
Hyundai Eon starts at an ex-showroom price of Rs. 2.74 lakh which goes all the way up to Rs. 3.76 lakh. This means it would cost around Rs. 3.0 lakh on road for the base version. Hyundai is waving off first year insurance—Rs. 8,407—and is offering Rs.20,000 exchange bonus. So if you were to trade in your existing car, then you'd get the car for around Rs. 2.75 on road—not a bad deal at all.
But if you don't have a car to trade in, then the benefit is limited to insurance waiver which its competitors too are offering. In that case, it really boils down to: were you looking to buy Eon? if so, then take advantage of the deal. Otherwise, it is not a game changer.
Hyundai Verna deals
Hyundai Verna, on the other hand, gets a cash discount of Rs. 7,500 on its petrol models. This is not significant since the Verna prices range between Rs. 7.11 lakh and Rs. 9.93 lakh. If you have a car to trade in, then you get an exchange bonus of Rs. 25,000.
So like Eon, the deal is not strong enough for you to change your decision, but eases the load on your wallet a bit if you were anyway planning to buy the Verna.
Conclusion
Except for i10 deals that are substantive, the rest of Hyundai deals really do not change the value equation in any significant ways.