Hyundai has launched its popular small car, the Hyundai i10, with a new 1.2 liter engine which it calls the Kappa.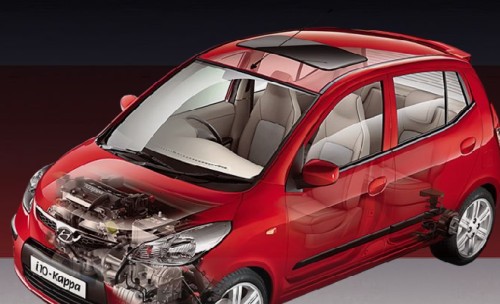 The original 1.1 liter i10 is still available in two models, D-Lite and Era. The 1.2 liter Kappa i10 will come in three variants – the Magna, Sportz and Asta. The i10 Kappa Sportz will be the top-end model, with sunroof,  great interiors, and a bodykit.
[sc name="Used Cars City Widget Shortcode"]
The i10 in India had the Epsilon engine so far – the new Kappa all-aluminium engine replaces that in the 1.2 liter models, while the older D-Lite and Era will continue to be offered with the older 1.1 liter engine.
The i10 1.2 liter Kappa will also have an automatic transmission version – we have not seen a small car in India with automatic transmission in a long time now. The car will offer 80 PS (81 bhp), pretty good for a car this size. The Hyundai Kappa i10 1.2L will have a 0-100 kmph figure of 12.8 seconds and a top speed of around 165 kmph.
Pricing for the 1.2 liter Kappa versions of the i10 will be between Rs 3.89 lakhs and 5.43 lakh on-road in Mumbai.
Oh, I have to say this – the Hyundai i10 has an atrocious site. If you want to take a quick look at the i10 and figure out what new feature goes in which model of the i10 Kappa, you will be left gnashing your teeth. All you get are tables after tables. Hasn't Hyundai got anyone who can write a few paragraphs of text? If you already know what the car looks like and wants to research more, the tables are definitely handy though.