Hyundai India has launched the Elantra premium sedan in India with prices ranging between Rs. 12.51  lakh and Rs. 15.85 lakh ex-showroom Delhi. The car is available in seven variants (3 petrol variants and 4 diesel variants) and six colors – with a choice of manual and automatic transmissions in both petrol and diesel form.
Prices
Petrol (ex-showroom Delhi)
Hyundai Elantra 1.8 S MT – Rs. 12.51 lakh
Hyundai Elantra 1.8 SX MT – Rs. 13.74 lakh
Hyundai Elantra 1.8 SX AT – Rs. 14.74 lakh
Diesel
Hyundai Elantra 1.6 CRDi Base MT – Rs. 12.91 lakh
Hyundai Elantra 1.6 CRDi S MT – Rs. 13.64 lakh
Hyundai Elantra 1.6 CRDi SX MT – Rs. 14.85 lakh
Hyundai Elantra 1.6 CRDi SX AT – Rs. 15.85 lakh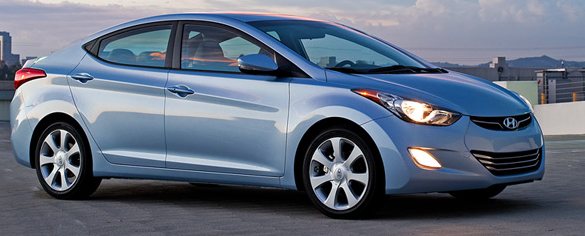 The Elantra was a brand Hyundai discontinued in India till 2006 as the car was slightly ahead of its time, but now the demand for premium mid-size sedans picking up, Hyundai badly needed a product to slot in between the fluidic Verna and the Hyundai Sonata. So what's unique about the Elantra?
Looks and design
The "fluidic"design theme that Hyundai has adopted is getting a bit monotonous now. It takes a trained eye to differentiate one car from another. On sudden glance the Elantra looks like the Verna or the i20, and only after you've stared at it for a few seconds do you recognize it as an Elantra! From the rear, the Elantra looks a lot like the Sonata. As far as individuality in design goes, the Elantra does not have it. The fit and finish on the car is excellent, and when you look at it from the side, the car has a very sporty profile, almost coupe like, with an upturned boot and pointed snout.
It has quite a spacious interior and the use of beige further adds to the feeling of space. However, just like the Hyundai Verna, the rear seats are pretty low-set and one tends to sink into the car, while the high window line restricts visibility. Rear seat legroom is good and the armrest with integrated audio controls is convenient. Plastic quality is good.
Engine choices
The Hyundai Elantra comes with two engine choices – a 1.6 litre diesel engine that it shares with the Verna, which puts out 126 bhp of power at 4000 rpm and 264 Nm of torque at 1900-2750 rpm, and a 1.8 litre petrol engine that puts out 148 bhp of power at 6500 rpm and 180 Nm of torque at 4700 rpm. Both these engines are offered with a choice of either a six-speed manual transmission or a six-speed automatic transmission.
If you compare the power that the diesel offers with other cars in its segment, it is more powerful than the Toyota Corolla Altis, Renault Fluence and base variants of the Skoda Laura, but not as powerful as the Skoda Laura Elegance or Chevrolet Cruze, with the latter being the most powerful sedan in its segment. Among the petrol cars, the Elantra is much more powerful than the Fluence, Altis and Honda Civic, but not as much as the Skoda Laura TSI, which is one of the most powerful petrols in its segment.
Comfort and features
Hyundai is known for loading its cars with features and the Elantra does not disappoint. It has a long and useful feature list. One unique feature is the presence of ventilated front seats, which circulate cold air through the seat – very useful in hot Indian summers. Other features you expect on a Hyundai are there including keyless entry with push-button start, power driver's seat with lumbar adjustment, power folding mirrors, rear-view camera with mirror display, parking sensors, dual-zone automatic climate control, rear AC vents, steering mounted audio controls with Bluetooth phone functionality, tilt and telescopic steering, adjustable arm rest, rear-seat audio controls, chilled glove box, automatic headlamps, tinted side windows and even cruise control.
Hyundai has also loaded the car with safety features which include six airbags, all-round disc brakes with ABS, stability control and hill-hold control in the top-end variant. The car is the most-loaded car in its segment and if we had to nit-pick, we'd say the only thing missing is a sun-roof!
[poll id="37″]
Mileage
Hyundai's diesel Elantra is likely to be the one in most demand with a claimed mileage of 22.7 kmpl for the manual variant, while the automatic is likely to give about 18 kmpl at best. Among the petrol Elantra's the claimed mileage is 16.3 kmpl for the manual, but don't expect a mileage of more than 13 kmpl at best. Going by the claimed figures, the Elantra is the most fuel efficient car in its segment (among both petrol and diesel engine choices).
The Elantra comes with a four-year warranty that's valid up to 100,000 km with road side assistance in all cities where Hyundai's service centers are present.
What we think
The Hyundai Elantra has the potential to become the new premium mid-size segment leader just as the Verna did one segment lower. However, as a premium brand Hyundai still needs to establish itself. By pricing the Elantra between Rs. 12.51 lakh and Rs. 15.85 lakh ex-showroom Delhi, the Elantra is much better value for money compared to the Skoda Laura, Renault Fluence and Chevrolet Cruze now. This could be a game changer in this segment. The car has already chalked up about 750 bookings all-India.
Presently the Toyota Corolla Altis is the segment favourite as it sells on the Toyota brand name – and has proven reliability, while the Skoda Laura and Chevrolet Cruze are also very popular. The Elantra will attract buyers looking for a spacious, feature-loaded sedan – and although it may not be the best in terms of performance, it makes up for that in the luxurious feel that it offers, and that's something buyers may like.
Share your thoughts on the new Hyundai Elantra. How do you think it compares with the Skoda Laura, Chevrolet Cruze and Toyota Corolla Altis?
Technical Specifications
[table id=956 /]