Hyundai is most likely to launch its new small car, so-far called 'Eon' in mid-October 2011. CarToq spoke to Hyundai dealers who confirmed the imminent launch, saying that bookings will begin during the second week of October. Here's what you can expect from the Alto competitor.
Eon deliveries are expected to commence in November, and the booking amount is likely to be Rs. 10,000, according to dealers we spoke to.
The Eon has been developed in India, specifically for this market. It is likely to co-exist with Santro, at least initially, and then Hyundai might decide to phase out the Santro. Also read: Maruti Suzuki Alto K10 road test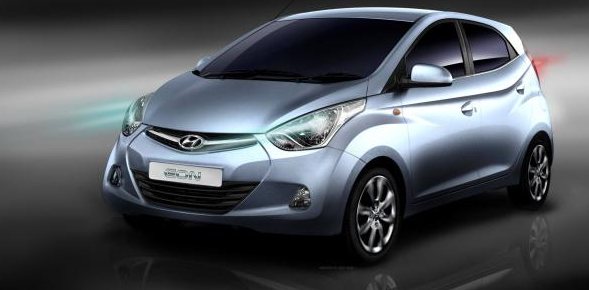 Performance and mileage
The Eon will be a petrol engine, powered by 814 cc, three-cylinder engine that will put out 55.23 bhp (56 PS) of power and 75 Nm of torque. This little engine will thus be more powerful than Eon's target rival, the Alto which is powered by a 796 cc, three pot motor that makes 47 PS of power and 62 Nm of torque.
Eon is expected to be around 21 kmpl. For a petrol car, this compares with the Alto and other cars well.
Space, looks and other features
The Eon will be slightly longer and wider than the Alto at 3495 x 1550 x 1500 (length x width x height in mm). It will also have a bigger and wider wheelbase, which means better ride stability and more legroom for passengers. Being a tall boy design, headroom is also likely to be adequate for taller people. Boot space is estimated to be 215 litres, which is good enough in this segment. Also read our earlier story about the Hyundai small car launch.
In terms of looks, The Eon will be the latest from Hyundai's fluidic design concept, which has been seen in i10 and Verna. Expect the car's front to have a hexagonal wide gap grille and headlamps design like in the i10.
The strongly pronounced crease line that runs above the door handles starting from the sides of headlamps and extending up to the edge of the tail lamps will give it a dynamic road stance. The glass house area at the front is quite good, but at the rear, it will be diminutive due to the steeply angled shoulder line ending (as in Maruti A-Star).
The rear of Eon is in sync with some of the new generation cars such as the Maruti Suzuki A-Star, Chevrolet Beat, and the soon-to-be-launched Honda Brio: large rear bumper, stylish hatch door, funky tail lamps structure and a high mount stop lamp.
Pricing and competition
Based on dealer inputs, we estimate the base variant of Eon to be around Rs. 2.50 lakh, going up to Rs. 3 lakh for the top-end variant (Prices mentioned here are estimated ex-showroom prices, Delhi).  Depending on the features offered, this could be better value-for-money than the Alto, or not.
With a more modern design, the Eon could be targeted at buyers in the bigger cities while the Santro may continue to appeal to semi-urban or rural buyers.
Conclusion
The Eon could be a strong proposition for first-time buyers who are looking for a stylish car, which the Alto does not have. But sales numbers are going to be driven more by the overall value for money proposition, where the Alto will be difficult to dislodge.
Do you think the Eon has the potential to impact Alto sales significantly? Share your reasons.
(Hyundai i10 spy photo courtesy: AutoCarIndia.com)