Launched at the end of 2022, the Hyundai Tucson surpassed many benchmarks in design, equipment, and performance in its category. Tucson's excellence in various parameters earned it not one or two, but 22 awards from various publications and portals. As a result, the all-new Hyundai Tucson became the most-awarded SUV in 2023.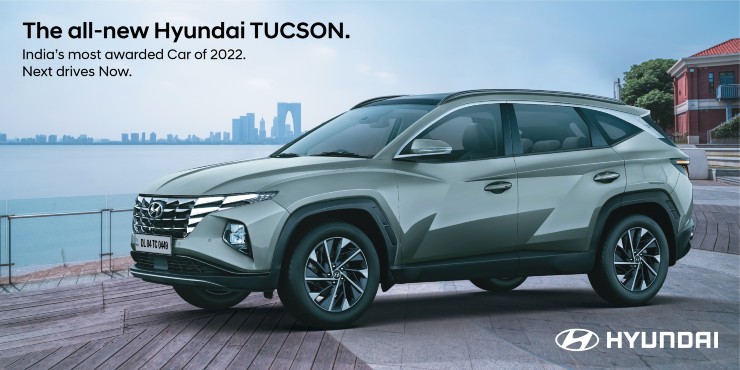 The Hyundai Tucson won titles like "Car of the Year," "Editor's Choice Car of the Year," "Premium SUV of the Year," "Best of 2022 Award," "Viewer's Choice SUV of the Year," "Techy SUV of the Year," "Executive SUV of the year," and "Best Safety Features of the Year" from various organizations. The fourth-generation Hyundai Tucson launched in 2023, coming to India much after its global unveiling. Tucson's journey began in 2005, replacing the then-flagship SUV, Terracan, in the Indian market.
Compared to the Terracan, the first-generation Hyundai Tucson was smaller but offered a more premium experience inside and out. Hyundai didn't launch the second-generation Tucson in India, replacing the first-gen Tucson with the Santa Fe. For a long time, the Santa Fe remained the flagship Hyundai SUV until Hyundai decided to replace it with the third-generation Tucson in 2016.
Also read: 2021 Hyundai Tucson SUV put through the "moose test"
All-new Hyundai Tucson
Compared to previous versions, this third-generation model had a higher style and features. In 2022, Hyundai introduced the all-new fourth-generation Tucson, a remarkable upgrade in every sense. It became a larger and much sharper SUV to look at, wearing the finest form of Hyundai's "sensuous sportiness" design language.
Hyundai also transformed the cabin of the Tucson, which now features a much more contemporary layout with several new-age features. This version of the Tucson also became the first-ever product from Hyundai to feature ADAS safety features. The Hyundai Tucson is available in India with two powertrain options: a 2.0-litre petrol and a 2.0-litre diesel.
The 2.0-litre four-cylinder naturally-aspirated petrol engine claims 157 PS of maximum power and 192 Nm of maximum torque output. On the other hand, the 2.0-litre four-cylinder diesel engine churns out 185 PS of maximum power and 416 Nm of maximum torque output. Both engine options are available with automatic transmission as standard. While the petrol engine is paired with a 6-speed torque converter, the diesel engine gets a more advanced 8-speed automatic transmission.
The brilliance of Tucson as a choice extends beyond its powerful performance. Its monocoque frame and well-balanced suspension setup are also noteworthy features. Despite its high ground clearance and commanding driving position, Tucson's excellent suspension system minimizes body roll. When driving the Tucson, the urge to push the accelerator is hard to resist, particularly on corners where other SUVs tend to slow down and play it safe.
Also read: 10 DC Design cars & how they look in the REAL world: Maruti Swift to Mahindra XUV500