This January, 2023 we witness the return of India's biggest car show, the Auto Expo, after an extended gap of three years. Visitors have the opportunity to see a wide range of cutting-edge automotive technologies on display for a week.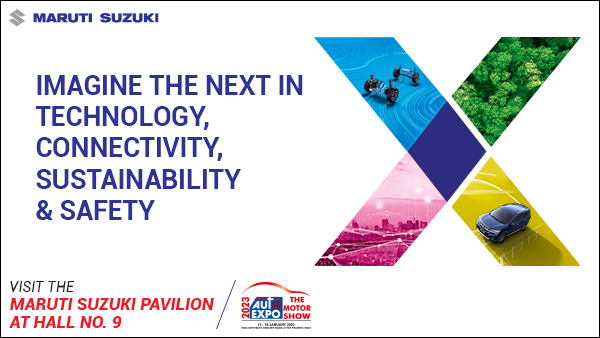 India's leading carmaker Maruti Suzuki India Limited is showcasing its latest innovations and upcoming cars in Pavilion 9. With ImagineXt – Leading the Future of Mobility theme, the company is displaying a range of technologies and concepts that will shape the mobility landscape in the years to come.
The company has set up five distinct sections with the Amphitheatre being the largest. It is a must-visit for SUV fans. Maruti Suzuki is showcasing its SUV line-up as well its go-anywhere AllGrip technology. The SUV line-up includes the Satin Black editions of Grand Vitara and Vitara Brezza. The much-awaited Jimny & Fronx, were also launched & since then have been creating a lot of excitement amongst visitors.
The Amphitheatre also hosts eVX, the electric SUV concept vehicle.
Additionally, the section will have 4,000 square feet of multifaceted screens for branded multimedia content. Maruti Suzuki is also unveiling their metaverse "ExpoVerse" which enables users to virtually experience the Maruti Suzuki Pavilion in all its glory. Amongst other things, visitors can take Grand Vitara and Brezza on a virtual test drive over ExpoVerse'23. Maruti Suzuki has set up immersive experience of the ExpoVerse via oculus in their Dealerships across India. For the ease of experience ExpoVerse Web Version is also launched which can be accessed from any device.
The adventurist in you will also be thrilled to check out heavily accessorized SUVs in the Adventure Zone and while at it, you could test your limits on the Climbing Wall that Maruti Suzuki has set up there. This zone will also feature highly accessorized AWD vehicles.
If you are technology enthusiast, then head to Maruti Suzuki Technology Zone where you can experience futuristic technologies such as ADAS and V2X at work using an Oculus VR Headset.
You could do your bit by being part of the sustainability campaign. Visit its Sustainability Zone where you can take a pledge towards Sustainability, digitally using tablets and mobile phones which will be showcased across all screens on the Sustainability Tree. Those who take a pledge digitally will also be able to get a personalized message & Video to share on social handles.
Sign off your tour of Maruti Suzuki's vision of the future of mobility with some fun stuff at Maruti Suzuki Innovation Zone: have your photo clicked with Varun Dhawan's 3D avatar and enjoy gesture-based tech show brought to you by KAI, an innovation start-up that is part of MSIL innovation program.
Head over to the Maruti Suzuki Pavilion, Hall No. 9, India Expo Mart, Greater Noida. Mark your calendar now—remember, it all begins on January 13th.