On one side you have three-wheelers like autorickshaws and on the other you have basic passenger cars like the Tata Nano, but nothing in between! But that's set to change as the government has approved "quadricycles", a new segment of vehicles that could change the motoring landscape in India, positioned between three-wheelers and four-wheelers.
The approval of this all-new segment of vehicles opens up a range of possibilities for the Indian market. The government has still not listed the safety norms and other criteria that a quadricycle must fulfill in India, but going by the kind of quadricycles that are legal in Europe, the possibilities are exciting.
What is a quadricycle?
A quadricycle is essentially a light-weight motorized four-wheeler that is a transition between a motorcycle and a car. In some countries ATVs or all-terrain vehicles qualify as quadricycles, but not all of them are road-legal and can be used on road. In India, Polaris sells "quads" or ATVs but they are strictly for off-road use and cannot be registered with the RTO.
However, with this new category of quadricycles now being cleared for road use, some of the Polaris models such as the Ranger series and perhaps even some of the company's ATVs can be classified for legal road use, opening up exciting possibilities in the market.
Also see: 5 types of cars Indians deserve (but nobody has given them to us!)
French quadricycle maker Aixam is one of the bigger names in the quadricycle business and makes five models that look like normal passenger cars. The vehicles are under 3 meters in length (slightly shorter than even a Tata Nano) and can seat two passengers. Aixam's quadricycles such as the GTO, City, City S, Crossline and Crossover are all powered by 400 cc two-cylinder diesel engines putting out about 6 bhp of power and 14 Nm of torque – almost the same as a small capacity motorcycle.
These vehicles can achieve a top speed of 45 kmph, which makes them ideal city commuters. They give incredible fuel efficiency of up to 34 kmpl, making them apt for Indian commuters in crowded cities. Quadricycles such as the Aixam range look like regular cars, but are lightweight, weighing only about 350 Kg, because they have fibre-glass bodies.
Who benefits the most?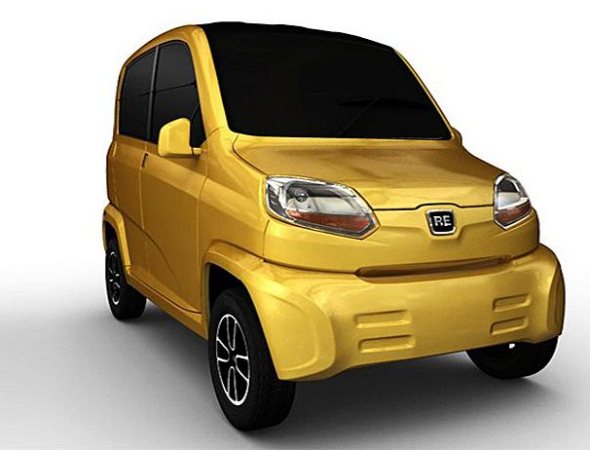 The biggest beneficiary of this new classification of vehicle would actually be Bajaj. Bajaj showcased the RE60, a quadricycle – or a very basic car – at the Auto Expo 2012 in New Delhi. The vehicle is now ready for production, but Bajaj wouldn't have been able to market it in India, as it doesn't meet the safety or power criteria laid out for a passenger car and it's not a three-wheeler. Also see: Mahindra Reva NXR electric nearing launch
Unlike the Aixam models, the Bajaj RE60 is designed to be a vehicle that can carry four passengers and is slightly more powerful. It will have a 200 cc single-cylinder petrol engine that puts out about 20 bhp of power and will weigh about 400 kg. It is inherently safer than an autorickshaw and could easily be positioned just below the Tata Nano as an entry-level four wheeler. Read more: Bajaj RE60 unveiling
Depending on the final norms that the government comes out with there are some more exciting "quadricycles" that could potentially hit the market for recreational use. Proper ATVs from Yamaha, Polaris, TGB and Quantum among others could be introduced for proper road use. One may see many two-wheeler riders swapping their rides for sportier quad bikes.
Of course, this is only speculation on the vehicle types, as the final approvals are needed from the government now, before this segment is official, and the norms are listed. The government is likely to dole out excise duty sops to popularize the segment and make for safer transport options.
What do you think of this new class of vehicles? Do you think they can give entry-level cars like the Nano a run for their money?
Source: Moneycontrol.com