India now has many car customizers and tuners who do some very nice jobs on cars. We're going to be looking at car modification jobs across cities over the next few weeks to showcase some of the best works of people who customize cars.
This week we're starting with Delhi. There are at least four car customizers in the Delhi NCR region who give cars complete makeovers. These include Autopsyche, Performance Auto, Pro-Automods and Babba Raju.
The cost of the makeovers can range from anywhere between a few thousand rupees to a few lakh rupees depending on the extent of the makeover. Some customers prefer only performance modifications, some want audio upgrades, while others go for entire body makeovers – some just cosmetic, while others mean business.
Here are some of the best modified cars from Autopsyche in the Delhi NCR region.
"Red Iron" Honda Civic
The exterior modifications on this 2007 Honda Civic include Mugen RR bumpers, skirts, spoiler and bonnet. The paint job is a combination of gloss black and matt red with stickering. Headlamps have dual projectors with angel eyes and the tail-lamps are clear lens LEDs. It has been given 16-inch alloys with wider, low-profile 205/55 tyres.
On the interiors the car gets matching black and red leather upholstery with a black and red dashboard theme.  The music system is a Pioneer DVD-based touchscreen.
It also gets some performance modifications which include a Garrett turbocharger, intercooler, customized air intake, performance clutch, and customized exhaust system. See more pics of the Red Iron Honda Civic (external link)
Also see:
– How to remove your sun film safely
–  Exactly how much can you drink and drive? (We advise you not to drink and drive at all, but all knowledge is good!)
– 5 ways service stations cheat you!
"Mojave" Gypsy
This Maruti Gypsy King 1.3 has had a complete body makeover. It has been given customized wide-body fenders which house huge 15-inch wheels with 31-inch mud-terrain tyres for hard core off-roading. IT also gets a 2-inch body lift all-around for better ground clearance. It has a customized short cabin with soft-top hood design. It has also been fitted with a 9000 pound winch for off-road recovery duties.
Engine modifications include a ported head, customized headers and exhaust and high-flow air intake. Interiors get customized bucket seats with leather upholstery with a sports steering and pedals. Find more pics of this modified Gypsy here  (external link)
Also read: Most expensive SUVs in India
"Red Streak" Mitsubishi Lancer
This car is rather simply and tastefully done. This Lancer is a real red-blooded rally car from the looks of it, although the mods are mainly cosmetic. It includes a custom body kit, with EVO4 inspired bonnet and grill. It gets twin projector headlamps, 15-inch alloys and clear lens component tail-lamps. The front bumper houses large Hella 700 fog lamps in typical Mitsubishi EVO style. The interiors get beige customized leather upholstery with new mats and re-finished dashboard. See more pics  (external link)
"Project Cruizer" Chevrolet Cruze LTZ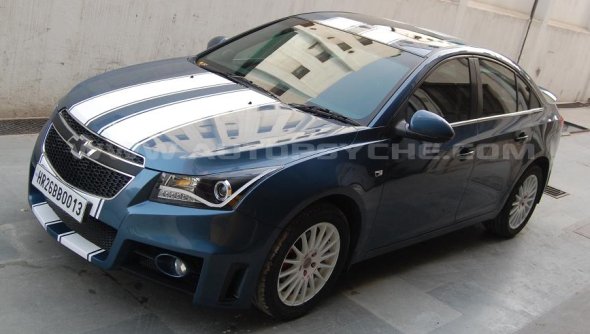 This 2010 Chevrolet Cruze LTZ has taken inspiration from the Ford GT 40 for its paint job, with the twin racing stripes. It is an automatic LTZ model which has now been given a healthy dose of power thanks to a digital diesel tuning box, hi-flow air filter, customized exhaust, and enhanced suspension with underbody and strut reinforcements.
Also read: Most expensive cars in India
The rear gets LED tail-lamps, while the headlamps are xenon projectors with an LED daytime running lamp. The wheel rims have been upgraded to 17-inch alloys with low-profile 255/50 Yokohama Advan Sport tyres.
See more pics (external link)
Maruti Swift "KusToM"
Maruti Swifts are among the most often modified cars and with good reason, given its sporty performance and potential for modification. This Swift here has been given a complete air-brush paint job. It features a custom body kit and bonnet design. It gets smoked projector headlamps and LED tail-lamps. The bumpers have been extended and the suspension has been lowered slightly.
The Swift also gets some performance upgrades which include a customized air intake, exhaust and fuel injection system. See more pics (external link)
Related: The big list of Indian flop cars
"The Sith" Honda Accord
This is a 2010 Honda Accord that has been given a classy makeover. It includes a customized body kit with LED smoked tail-lamps, daytime running lights, and projector headlamps with halo rings. It gets 18-inch alloys with low-profile 245/40 tyres. It also gets a customized exhaust system. The biggest mods have been to the sound system with dual subwoofers, component speakers and four-channel amplifier. This car is a discotheque on wheels!
All images courtesy: www.Autopsyche.com