Updated February 5, 2013
Not everyone who buys SUVs in India takes them off-road. Yet some of the SUVs available are very capable off-road and come fully equipped to take on any kind of terrain. Which is the best SUV your money can buy that provides you with go-anywhere capabilities as well as decent levels of comfort? The choice below Rs. 25 lakh is actually quite vast.
Here we list out the best vehicles that you can buy that will take you anywhere and across almost any kind of terrain. We're listing vehicles only by their off-roading abilities and not by the level of creature comforts they offer. The vehicles listed below are in descending order of price, but that does not necessarily mean that the vehicle with the highest price is necessarily the best off-roader. Also read: Most comfortable SUVs in India
For proper off-road capabilities, nearly 50% is the skill of the driver, and the other 50% is the vehicle's build and capability. So don't be surprised if you see a snug, luxury SUV, overtake a hard-core barebones off-roader in the wild or vice-versa. When choosing an off-road vehicle one has to consider torque-to-weight ratio, ruggedness of the chassis and simplicity of technology (which makes them more reliable off-road). All the vehicles listed here come with a low-ratio 4×4 gearbox and are proper off-roaders. Hence vehicles such as the Tata Aria, Mahindra XUV500 and Skoda Yeti don't make it to the list.
Toyota Fortuner 4×4 MT
Price: Rs. 22.58 lakh
The Toyota Fortuner is by far one of the most popular premium SUVs in India. The 4×4 variant comes with a full-time four wheel drive system with a manual shift low-ratio gearbox for extreme terrain. The Fortuner is powered by a 3-litre diesel engine that puts out 343 Nm of torque and 169 bhp of power. The Fortuner's high-ground clearance, robust build quality and decent level of creature comforts makes it the ideal go-anywhere vehicle – for both highway use and extreme off-road use.
Also read: 2012 Toyota Fortuner road test
Watch new Toyota Fortuner video review
Mitsubishi Pajero Sport
Price: Rs. 22.56 lakh
The Mitsubishi Pajero Sport is one vehicle that has the capability of changing Mitsubishi's fortunes in India. It is powered by a 2.5 litre common-rail diesel engine that puts out 178 bhp of power and meaty 400 Nm of torque. It comes with a "super-select" 4×4 transfercase that allows the user to drive in two-wheel drive, full-time 4×4, or four-wheel drive with center differential locked and also four-wheel drive low ratio. This gives the Pajero Sport excellent multi-terrain capabilities. Also read: Mitsubishi Pajero Sport road test and review
Ford Endeavour 4×4 AT
Price: Rs. 21.19 lakh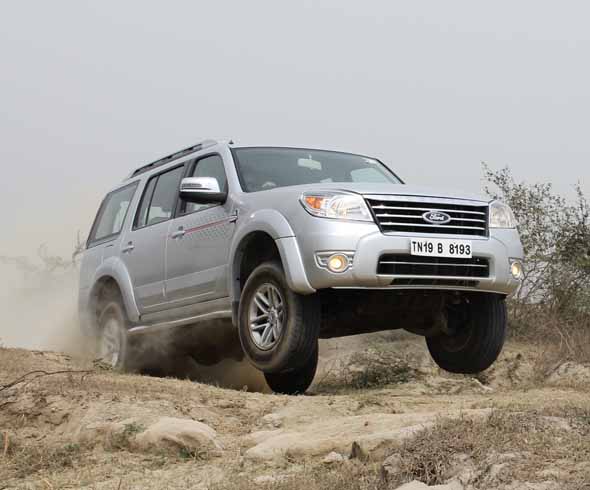 The Ford Endeavour 4×4 AT is the only premium SUV in its class that offers a 5-speed automatic transmission with an electronic shift 4×4 transfer case. The Endeavour is built on a pick-up truck chassis with high ground clearance and a sturdy leaf spring and torsion bar suspension set up. However, it does not offer much by way of features. It's not all that comfortable on the road, but it can take on the worst of off-road conditions with ease, and with the convenience of driving an automatic.  Also read: Ford Endeavour road test
Watch out Ford Endeavour Video Review
Mahindra Ssangyong Rexton
Price: Rs. 17.67 lakh
The Mahindra Ssangyong Rexton is the latest entry into the offroader club here. There are two variants of the Rexton on offer. The top-end RX7 automatic variant comes with a full-time all-wheel drive system with a 60:40 rear-front torque split. But because it doesn't have a low-ratio, that's not the variant we are looking at. The lower variant – the RX5 comes with a five-speed automatic transmission and a torque on demand 4×4 system, with a low-ratio gearbox (selected by a rotary switch on the dashboard). The Mahindra Ssangyong Rexton RX5 has a 2.7 litre, five-cylinder diesel engine that puts out 162 bhp of power at 4000 rpm and 340 Nm of torque at 1800 rpm. It is underpinned by robust mechanicals that have Mercedes Benz lineage. However, it feels better on tarmac than it does off-road. Also read: Mahindra Ssangyong Rexton road test and review 
Watch our Mahindra Ssangyong Rexton RX7 video review
Maruti Grand Vitara
Price: Rs. 16.99 lakh (MT), Rs. 18.3 lakh (AT)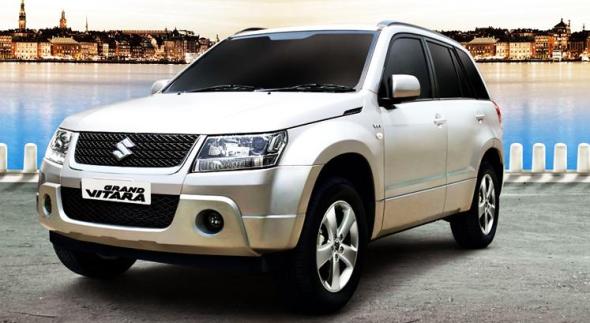 This is one SUV most have forgotten about just because it's powered by a 2.4 litre, thirsty petrol engine. The engine puts out 164 bhp of power and 225 Nm of torque making it quite a sporty vehicle and a favourite with rally drivers. It comes with a 5-speed manual transmission mated to an electronic shift four-wheel drive system with low-ratio.  The Grand Vitara also offers an automatic transmission option for those who want the convenience of an automatic, with the go-anywhere capability of a rugged 4×4 vehicle. As long as you don't mind expensive fuel bills, this is a great off-road vehicle.
Tata Safari Storme VX 4×4
Price: Rs. 13.68 lakh
The Tata Safari Storme VX 4×4 is a very capable all-round vehicle. It comes with a 2.2 litre common-rail diesel engine that puts out 138 bhp of power and 320 Nm of torque. The chassis and mechanicals have been updated, taking cues from the Tata Aria. It is offered only with a 5-speed manual transmission and the 4×4 variant has a shift-on-the-fly Borg Warner transfer case with low-ratio. This gearbox is identical to the one used in the Mahindra Scorpio 4WD. The Safari Storme's good ground clearance, rugged body and spacious cabin make it one of the better medium budget off-roaders, let down only by a slightly higher kerb weight. Also read: Tata Safari Storme road test and review
Mahindra Scorpio 4WD
Price: Rs. 9.28 lakh (LX), Rs. 11.60 lakh (VLX MT), Rs. 12.55 lakh (VLX AT)
The Mahindra Scorpio now offers an electronic shift-on-the-fly 4×4 transfer case on three variants of the Scorpio. Two come with five-speed manual transmissions, while the third is a six-speed automatic. The Scorpio is powered by a 2.2 litre common-rail diesel engine that puts out 120 bhp of power and 290 Nm of torque. Its multi-link rear suspension and torsion bar front suspension gives it pretty decent off-road manners. Also read: Living with a Mahindra scorpio
Watch our Mahindra Scorpio LX 4×4 video
Force Gurkha
Price: Rs. 7.8 lakh (estimated)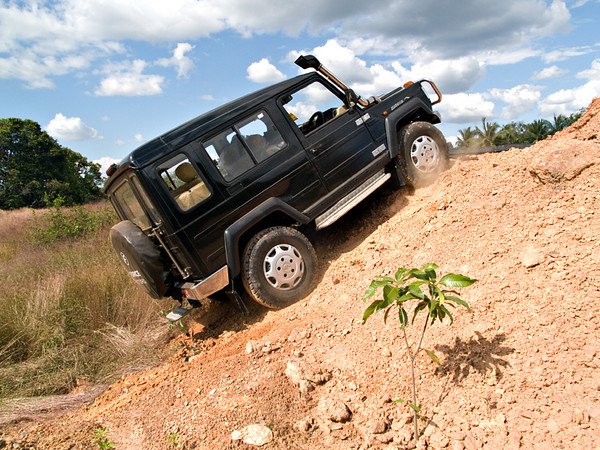 The Force Gurkha is temporarily not available in the market, but should be back in a couple of months. The Gurkha is a very capable off-roader based on the Mercedes G-Wagen that's nearly 10 times more expensive. The Gurkha is the only off-roader to come with manually lockable front and rear differentials which help in extreme rock crawling, slush and sand. However, its 2.6 litre engine puts out a relatively underpowered 75 bhp and 195 Nm of torque. This is expected to upgraded when the new Force Gurkha hits the market. Also read: https://www.cartoq.com/force-motors-to-launch-two-new-vehicles/
Mahindra Thar CRDe 4×4
Price: Rs. 6.86 lakh
The Mahindra Thar is probably the best vehicle you can get if your purpose is pure off-roading. The simplicity of its technology and robustness of the chassis is what makes it extremely capable off-road. The Thar is powered by a 2.5 litre, 103 bhp diesel engine that puts out 247 Nm of torque. This is mated to a 5-speed manual transmission and a manual Borg-Warner 4×4 transfer case with a 2.46:1 low-ratio gearbox. The Thar's rugged leaf spring rear suspension and independent front suspension give it good off-road manners.  Also read: Mahindra Thar road test
Watch our Mahindra Thar road test
Maruti Gypsy King ST 4×4
Price: Rs. 5.60 lakh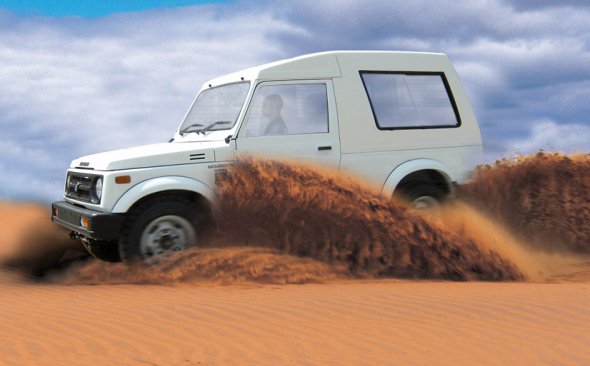 The Maruti Gypsy is a very capable off-road vehicle that's a favourite with rallyists and the Indian army. However, people have been shying away from the Gypsy because of its thirsty petrol engine and lack of creature comforts. The Gypsy has a 1.3 litre petrol engine that puts out 80 bhp of power and 103 Nm of torque, with a 5-speed manual transmission and shift-on-the-fly manual 4×4 transfer case with low-ratio. The Gypsy's good ground clearance and extremely light body make it great to drive off-road especially in desert sands or slushy conditions. However, it comes with no features – not even power steering.
Other choices
There are also a couple of lifestyle pick-up trucks one can choose from if you want good luggage carrying capacity along with four-wheel drive capability. The Mahindra Scorpio Getaway 4WD (Rs. 9.26 lakh) and the Tata Xenon 4WD (Rs. 10.1 lakh) are popular choices for off-road lifestyle pick-up trucks for personal use. For commercial use there is a whole range of Mahindra vehicles that offer 4×4 variants such as the Bolero Camper 4WD, Thar DI and Mahindra Pik-Up, sold in rural and semi-urban India.
Go ahead. Tell us which is your most favourite off-road vehicle in India?
Force Gurkha photo courtesy team-bhp