Rolls-Royce, as a brand, is considered the epitome of luxury. This is due to various reasons that we have discussed in our past articles. One thing that Rolls-Royce offers its customers is a long list of customizations. While this definitely increases the cost of the vehicle, most people who buy a Rolls-Royce opt for it. One of the videos circulating on the internet features a yellow-colored Rolls-Royce Cullinan Black Badge. This happens to be India's first Cullinan Black Badge in this shade. What makes it even more special is that it is owned by a woman entrepreneur Vratika Gupta of Mumbai. The Cullinan Black Badge's ex-showroom price is Rs. 12.25 crore, and the super luxury SUV can get a lot more expensive with customization.
Yes, Vratika Gupta is India's first woman to own a Rolls-Royce Cullinan Black Badge SUV. She is the founder of Maison Sia and has a background as a fashion designer turned interior decorator. Her venture, Maison Sia – the ultimate house of luxury, is a one-of-its-kind multi-brand home decor store that offers exquisite and limited edition decor items. Her office is located in Mumbai, but the items sold at her store are sourced from around the world.
Just like her venture, the unique look is visible in her newly purchased car as well. It is India's first Rolls-Royce Cullinan to receive a yellow paint job. The car was first spotted in Mumbai without a registration number. Recently, we came across a video of the same Cullinan in Mumbai again, and this time we checked the registration number, which led us to the discovery that Vratika was the owner of this luxury SUV.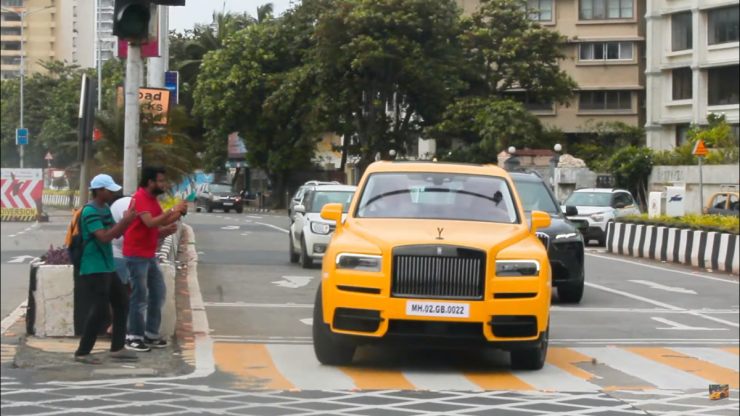 As this is the Black Badge version, there is almost no chrome on the car, which actually goes well with the overall look of the vehicle. The Yellow shade on this massive SUV is not gloss; the owner has opted for a matte or satin finish, which again complements the overall look. Rolls-Royce Cullinan is an extremely luxurious SUV known for its comfortable ride quality, extremely silent cabin, and long list of creature comforts. However, in this yellow shade, the SUV looks sporty, which is a great thing.
As mentioned above, Rolls-Royce offers a long list of customization options. Apart from the exterior, a customer can also opt for a personalized theme for the interior. Unfortunately, the video does not show the interior. We wouldn't be surprised if the owner has gone for a bold color for the interior too. The Cullinan Black Badge is powered by the same 6.75-liter twin-turbo V12 engine that generates 600 Bhp and 900 Nm of peak torque. Comparing the power stats to the normal Cullinan, there has been an increase of 29 Bhp and 50 Nm. All four wheels receive power from an eight-speed automatic gearbox.